Journalism
Jake Tapper Talks News and Gives Advice to Journalism Students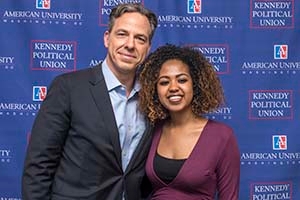 I was ecstatic when I first learned that CNN Anchor and Chief Washington Correspondent Jake Tapper was coming to speak at American University (AU). As a graduate student specializing in broadcast journalism, it is such an honor to be able to see – and talk to – someone who fights to bring fresh, sincere, and accurate journalism to the public. Hundreds of students from across AU lined up two hours early to get tickets for the event. School of Communication (SOC) professor Jane Hall interviewed Tapper and moderated student Q&A. Tapper touched on several important and relevant issues in journalism and politics today.

Sara Wise, a fellow graduate journalism student, said that she liked how the event was focused on questions asked directly by students. "I loved being able to ask him a question that tied directly into a conversation I've been having with family and friends a lot recently and that he seemed thoughtful in his answer," she said.

"Jake Tapper was refreshing!" said Murugi Thande, a senior in film and media arts. "He made the crowd laugh, and he was very responsive to questions. He's an honest and straightforward person, and that's the kind of person SOC journalists like me aspire to be," she said.

Tapper began the event by addressing the battle between real and fake news. "It is important for the press to stand up for truth and decency," he said.

As a student, my absolute favorite part of the evening was his story about how he first realized he wanted to be a journalist, after spending some time searching for the right career, which many students can identify with.

"The 'light bulb going off' moment for me was when I was on a ski trip with friends. I read journalism all the time, including the New Republic, a great magazine." On the trip, Tapper met someone who wrote freelance pieces for the New Republic. "And, I said to myself, 'Oh my God, people write these things! I can write something like this,' so I started looking around for stories to write about."

The event was co-sponsored by the School of Communication and the Kennedy Political Union at AU. Polson Kanneth, (SOC/BA '05) a former SOC broadcast-journalism major at AU, is now senior editorial producer at CNN's "State of the Union with Jake Tapper." Kanneth and Hall began talking in the CNN green room about asking Tapper to speak to students at SOC. SOC worked with Tapper, Kanneth and CNN to make it happen. Polson remembered attending SOC's American Forum events moderated by Hall when he was a student. "Tuesday's event reminded me of the SOC forums I went to when I was at AU," Kanneth said. "I loved that the students asked smart questions and Jake encouraged them not to give up on their dreams of being in journalism."

Tapper left me and other students in the audience with advice to keep in mind as we get ready to embark on our careers as professional journalists. He said that failure is a part of the process when entering the field of journalism and that shouldn't keep any of us from trying over and over again until we attain our goals.

"Journalism is a tough career path and you will face a lot of rejections. Don't take it personally. I have received a lot of rejections myself. It's just the nature of the business." he said.
Learn more about our MA in Journalism and Public Affairs and our MA in Journalism and Digital Storytelling.