Communications
Q&A with BBC Supervisor of Broadcast Network Operations Joanna Zwanger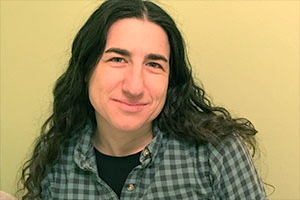 Joanna Zwanger (SOC/MA '17) serves as the Supervisor of Broadcast Network Operations for BBC America in Silver Spring, MD where she manages the generation of broadcast logs, graphics scheduling, and coordination of various deliverables for on-air and VOD. She was able to earn her MA in Producing for Film, Television, and Video on weekends through American University School of Communication. Before joining BBC America, Joanna worked for PBS as the Assistant Director of Promo Distribution, handling an array of on-air promotion responsibilities for the network - scheduling, assisting local stations, and advising producers. SOC sat down with Zwanger in advance of a webinar on Tuesday, March 20, where she will be sharing her capstone project, a web series for girls that featured working in STEM careers, and answering questions about her time in the MA program.
SOC: Talk about your job at BBC.
JZ: At BBC America, I manage the broadcast logs. My work entails making sure all on-air materials deliver on time and are scheduled correctly and air as expected; primarily programming and graphics. More specifically in relation to the broadcast logs, this work involves scheduling programs to mirror the schedule laid out by our programming department, adjusting commercial breaks, and scheduling all on-air graphics. I interact with various departments in my work (Programming, Creative Services, Post Production), and because of that, I get insight into various components of a major media organization. It can be fascinating to see all the different areas and how things come together. My work requires hard deadlines - there are no extensions, you either make it to air or you don't, and something not making it to air or not airing correctly is not an option.
SOC: Talk about your capstone and how/why you decided to create a web series for girls that featured working in STEM careers.
JZ: My capstone was titled How to be Awesome. It is an educational web series that aims to expose children, especially girls, to interesting careers that women have in various fields, despite the lack of representation of women in those areas. Going into the program, I didn't expect my capstone would be a non-fiction project. I had been kicking around a similar project in my mind for a while, but didn't expect to do anything with it. My daughter was born halfway through my master's program, and I think that ended up influencing the decision a lot. I find princess culture pretty terrifying for a number of reasons, and so I re-worked a half-baked idea into something that I saw as a counter to that.
SOC: What was your favorite part of the MA program here?
JZ: It's difficult to point to one specific thing that I enjoyed most about the program. There were classes that I ended up enjoying and gaining a lot more out of than I expected to. The class that surprised me most was our law class. I had taken Communication Law in undergrad, and I was dreading that class, but it turned out to be a highlight of the program for me. The instructor not only managed the class well and made the subject matter interesting, she clearly demonstrated an understanding and respect for our lives outside of school (as well as the fact that we were not, in fact, law students). Even more so though, among my classmates, I found people I'd want to collaborate with on future projects. I think this was one of my greatest hopes for the program, and I'm happy to have come away with people I'd like to work with in the future.