Communications
Journalism Division Celebrates 2022 Student Awards and Honors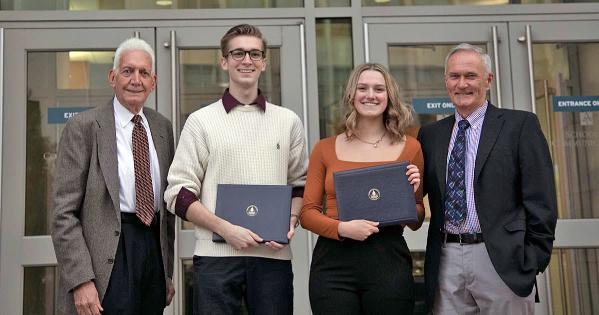 For the first time, two American University School of Communication (AU SOC) students received the annual Rodger Streitmatter Journalism Award for Excellence. Graduating seniors Clare Mulroy and Skye Witley were honored for their outstanding scholarship and dedication to the field of journalism.   
The award, named in honor of longtime professor Rodger Streitmatter, was part of a multi-recognition ceremony last week that featured the induction of seven new Kappa Tau Alpha members. The national honor society recognizes academic distinction in journalism and mass communication. The seven students are in the Top 10% of the graduating class.   
"Because two of this year's applicants were the epitome of the qualities we want to honor with the award," Streitmatter said, "we decided to give two awards this year." 
Mulroy and Witley are the sixth and seventh recipients of the Streitmatter Award for Excellence, established in 2017 to pay tribute to Streitmatter, the popular SOC professor emeritus and scholar, former newspaper reporter and AU alumnus who retired in 2020. His husband, Thomas B. Grooms, created the award to recognize and encourage undergraduate students pursuing careers in journalism. This year's monetary award was $2,300 each for Mulroy and Witley, plus a certificate. Both of their names will be  engraved on a trophy displayed at SOC. The judges include Streitmatter, SOC Dean Sam Fulwood III, and senior professorial lecturer and journalist-n-residence, Lynne Perri. 
 
"After two years of not being able to hold the ceremony in person, the event seemed even more special this year," said professor Terry Bryant. "The highlight for me was getting to mingle with so many students, colleagues, and especially Rodger and Tom, after a long two years of the pandemic shutting down nearly all in-person gatherings."  
Mulroy, editor-in-chief of The Eagle, has worked for the campus newspaper since her first year at AU. She is an editorial intern on NBC's Today Show and held previous internships at NBC News' Washington Bureau, Voice of America, and Tagg Magazine. 
Streitmatter praised Mulroy's essay and asked her to read it at the ceremony because he was impressed by its meaningful message. Mulroy spoke about how her compassion for humanity is her primary motivator to pursue her chosen field. 
"I am a journalism major because I believe that storytelling is the most important part of our society. I am a journalism major because I know that stories create change," she read. "I am a journalism major because I am a writer, and I know how to influence with my words. I am a journalism major and I don't take this field lightly because I know being in and represented in journalism is a power. I remind myself of this weight every day."  
Witley's time at AU also included working as an editor and reporter for The Eagle. He is interning for The Durango Herald, covering the Colorado congressional delegation. Witley hopes to be an investigative environmental journalist, sings in an a cappella group and carries a 4.0 GPA. He was recently named the winner of the 2022 AU SOC White House Correspondents' Investigative Journalism scholarship. 
Streitmatter heralded Witley's essay in which he spoke about how he sees journalism as the way he can have the most impact on the world. "I was home for the holidays, reading my old journal—a messy collection of introspective entries—when I encountered a 10-word question scrawled across the page: How can I do the most good in the world? The entry was dated July 2019, a month before I started college. Today, I know the answer is journalism," said Witley. 
Several other students were announced as winners of the annual Rodger Streitmatter Journalism Prizes:  
Best News Story (COMM 320 Reporting)  
Eliza DuBose (first place)  
Natalie Flynn (second place)  
Best News Story (Comm 425 Advanced Reporting) 
Sophia Thomas (first place)  
Skye Witley (second place)  
Best Audio Story 
Bonnibelle Bishop (first place) 
Eloise Stikeleather (second place)  
 
Best Video Story 
Thomas Friedl (first place)  
Nicole Yu (second place) 
Best Investigative Plan 
Dan Papscun (first place) 
Kayla Benjamin (second place) 
Perri serves as faculty advisor to AU's KTA chapter. "It was wonderful to be able to publicly recognize so many outstanding accomplishments," she said. "This event was uplifting and inspiring after this difficult academic year as everyone coped with the additional stress of health protocols.  
AU 2022 KTA Inductees in journalism and communication studies: 
Fanny Ahman 
August Barham 
Clare Mulroy 
Nicole Fernanda Pérez 
Skye David Witley 
Schanelle Saldanha 
Isabelle Verdino 
*Photo by Dantong Lou