Communications
Dr. Laura DeNardis Named Interim Dean of the School of Communication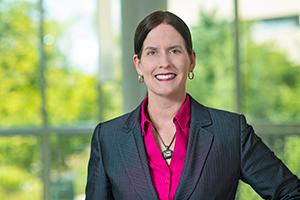 Dr. Laura DeNardis, American University School of Communication (AU SOC) professor and globally distinguished scholar of Internet governance and cybersecurity, has assumed the role of interim dean of SOC, effective July 1, 2019. She succeeds Dean Jeff Rutenbeck, who is departing American University to become provost at Arcadia University.
As interim dean, DeNardis will be responsible for the school's overall management and strategic leadership. "I'm honored to lead the extraordinary School of Communication as media and communication systems profoundly shape and confront the great societal challenges of our generation," DeNardis said.
Dean DeNardis is a prominent public intellectual and author whose six books include The Global War for Internet Governance and the forthcoming The Internet in Everything: Freedom and Security in a World with No Off Switch (both Yale University Press), among others. She is a founder and faculty director of the Internet Governance Lab at AU. She holds an engineering science degree from Dartmouth College, a master of engineering degree from Cornell University, a PhD in science and technology studies from Virginia Tech, and was awarded a postdoctoral fellowship from Yale Law School.
Dean DeNardis has served in a number of senior leadership positions throughout her career. She joined American University in 2011 from Yale Law School, where she taught and served as executive director of the Information Society Project. As a full professor and associate dean for faculty affairs for the past six years, she has been involved in all aspects of administrative leadership in SOC. While at AU, she has held affiliated fellowships with the Yale Information Society Project and Columbia University School of International and Public Affairs and served as the director of research for the Global Commission on Internet Governance. She has also served as an appointed member of the high-level advisory committee on international communications and information policy at the U.S. Department of State.
A passionate educator and advocate for students, she was the recipient of American University's Scholar/Teacher of the Year Award in 2018. In 2012, she received an American University award for outstanding support of LGBTQ students. Following this interim deanappointment, she will return to her position as professor of communication studies.
During his seven years leading SOC, Rutenbeck expanded various SOC initiatives including the Dean's Internship program, which offers high-level internships at partnering media organizations to SOC's most accomplished students. "Even in just my short time at AU, I have come to view Jeff as an extraordinarily valuable partner, and I know he will be missed by colleagues across the university," said University Provost Daniel Myers.