Communications
Accomplished Alumna Returns to SOC as Washington Post Fellow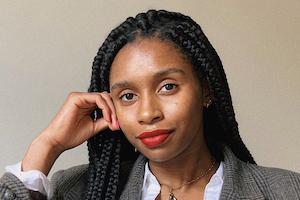 Lauren Lumpkin excelled during her time as a Public Relations/ Strategic Communication undergraduate at American University School of Communication (AU SOC). She was the undergraduate speaker for the 2018 SOC commencement ceremony and part of Black on Campus, an investigative reporting program for black college students. She was also editor-in-chief of The Blackprint, a publication founded by the American University Association of Black Journalists (AUABJ).
However, during her time as an undergrad, she realized her passion was not for Public Relations but was for investigative journalism. She interned at The Washington Post's Metro desk and knew she needed to go back in the future.
Since graduation, Lumpkin worked at the Baltimore Sun and currently works at the Capital Gazette as an education reporter. One of her proudest pieces was a three-part series covering mental health in high schools. She interviewed students, parents, teachers, health professionals and school counselors to understand why high school students are experiencing higher rates of anxiety and depression.
Although Lumpkin never thought she would go back to school, she decided to return to SOC to get her MA in Journalism and Public Affairs because she had great connections with the faculty.
"Throughout my undergrad, I built a good community of mentors that helped me figure out my future. Another one of the driving factors was finding out about The Washington Post Fellowship that SOC offers. Both of these opportunities would give me the ability to refine my journalism skills and learn more about the industry," said Lumpkin.
On the same day the Capital Gazette received a Pulitzer Prize citation for its coverage of the June attack on its Annapolis offices, Lumpkin found out she received the fellowship.
"This was a crazy day filled with a lot of emotions. I was so excited to be given The Washington Post fellowship and although I wasn't there during the tragedy that happened at the Capital Gazette, I was so proud of the team and I was so happy to be able to celebrate with them," said Lumpkin.
Although Lumpkin has already interned at The Washington Post and has experience working in a newsroom, balancing the workload plus graduate school will be a challenge. However, she knows some of the previous fellows, including Debbie Truong, who gave her some pointers on how to manage both school work and the fellowship.
Even though there are some aspects that she is nervous about, she is excited to return to D.C. and learn more about the city. She is excited to be more invested in a beat and really embed herself into the D.C. culture.
Her goal for the fellowship is to take on a project that she can really be a part of and will make an impact.
"As an intern, it was hard to get invested in a beat because I was only there for a semester. But now I will have the opportunity to create something that could do a public service and lead to change," said Lumpkin.