Communications
Global Media Student Gets an Insider's Look at Journalism in China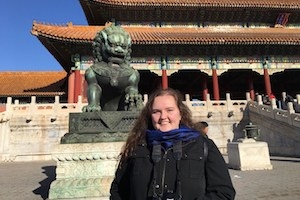 Hunter Martin, a Global Media master's student at American University, recently traveled to China as a graduate student delegate. Martin was part of a group of U.S. journalist-delegates who were able to gain a first-hand view of the Chinese perspective on journalism and the media.
"The trip was an amazing experience," said Martin. "For the first time, I was immersed in a non-Western culture. Learning about journalism in China from the point of view of Chinese journalists made me reflect on my own perspectives and interpretations of the international community."
"I hope to share the stories of people who have been historically underrepresented or systematically marginalized and are currently unable to use the media as a tool to promote development," she said. "Prior to taking part in this trip, I was unaware of how many Western biases I held. Visiting the country first-hand facilitated personal introspection into my own perspectives in order for me to become better educated about China and other cultures."
Read more about Martin and her experience in The Perry News .