Communications
MacArthur Foundation Awards $1.5 Million to American University Nonprofit News Organization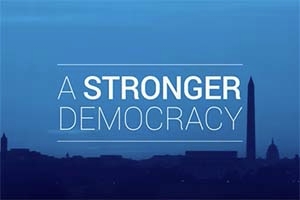 American University's Investigative Reporting Workshop will receive $1.5 million in general operating support over the next five years from the MacArthur Foundation, which today announced its renewed and expanded commitment to journalism and media.
The Workshop, a project of the AU School of Communication (AU SOC), is one of 12 news organizations across the country to receive these unrestricted grants.
The Workshop has received $200,000 annually from the foundation since 2009, but this is the largest grant from the foundation to date. Workshop Executive Editor Charles Lewis said, "We are thrilled and humbled by this very generous support and endorsement of our work here." 
In addition to co-founding the Workshop, Lewis, formerly an investigative producer for ABC News and for CBS 60 Minutes, founded the Center for Public Integrity and its International Consortium of Investigative Journalists. He also co-founded the Institute for Nonprofit News (formerly the Investigative News Network), a consortium of more than 100 news organizations around the country dedicated to collaborative efforts in public-service journalism. For this work, he will receive the Society of Professional Journalists' D.C. chapter 2016 Distinguished Service Award later this month. 
The Workshop, one of 18 nonprofit news organizations affiliated with universities around the country, and the only one in the nation's capital, reports on a wide range of topics with a focus on corporate and government accountability. The Workshop's stories on the economy, immigration, campaign finance, Internet access and toxic chemicals have been co-published with The New York Times, the New Yorker, the Philadelphia Inquirer, BBC America, MSNBC, NBC News and ABC News. The Workshop also produced stories in the "Years of Living Dangerously" series, which aired on Showtime and won an Emmy Award for Best Documentary in 2014.
Its most recent investigation is an in-depth look at the Exelon-Pepco merger, including how much top stakeholders made. It is a collaboration with WAMU 88.5, the Washington DC NPR affiliate. WAMU reporter and AU SOC alumnus Patrick Madden contributed to this report.
The Workshop has had a partnership with PBS FRONTLINE since 2009. "Business of Disaster," the ninth co-production with writer-producer Rick Young and his team, included four student researchers and production assistants. The program was broadcast on PBS nationwide and online in May. The FRONTLINE-Workshop/American University partnership is the documentary program's only on-campus collaboration in the United States.
The Workshop has had a three-year partnership with The Washington Post, in which graduate researchers and reporters from American University and other colleges are paired with Washington Post reporters, including Workshop Senior Editor John Sullivan. A 2015 Post series on police shootings, which recently won a Pulitzer Prize, included the reporting and research of a Workshop intern.