Communications
Max Brooks Uses Storytelling to Prepare Us for Disaster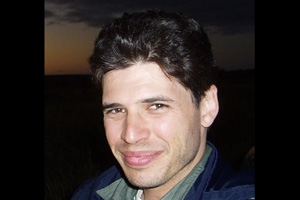 Whether describing zombie wars or an island world in Minecraft, Max Brooks writes to entertain. But he also has a deeper purpose, and it's deadly serious: to prepare us for the coming calamity, in whatever shape it may take. 
Brooks, who earned his MA in film studies from the School of Communication, is best known as the author of popular novels, including "World War Z: An Oral History of the Zombie War," which was adapted for the 2013 movie. His latest novel, "Devolution: A Firsthand Account of the Rainier Sasquatch Massacre," will be available on June 16.  
He is also an actor, filmmaker, researcher, and perhaps most surprising, a recognized authority on issues that affect national security, such as disaster preparedness and resilience, about which he regularly writes and speaks. He currently serves as a senior non-resident fellow both at the Atlantic Council's Brent Scowcroft Center for Strategy and Security and at the Modern War Institute at West Point.  
'Good communication is the most important thing' 
In his many roles, Brooks has worked with the military, with government agencies, and with national security thinktanks. He knows those organizations are staffed by committed public servants with deep expertise in their fields. But he has also watched those experts struggle, and often fail, to explain government policies to the public.  
The problem is grave. In Brooks' assessment, the lack of "good communication, coming from those in the know" is weakening our country and leaving us unprepared to face real threats to our health and security. He argues that even the most brilliantly crafted policies are meaningless if the voter and the taxpayer don't understand them or why they matter. 
That's not how it used to be. Brooks contends that the United States once led the world in communication. He has a collection of comic books and films commissioned by the U.S. government during World War II and the Cold War. In those days, he says, the government invested in media to explain policy and gain public support. And, as a result, we "dominated information warfare."  
Now, he says, we've fallen behind. Meanwhile, other countries and non-state actors are busy exploiting new technologies and platforms to their own, sometimes dangerous, ends. He said, "Russia. China. Iran. You've got all the enemies of democracy embracing communication and public outreach."  
Within the U.S., too, certain personalities have taken advantage of their media reach to become trusted authorities on topics they know little about. They may not have the knowledge or the best ideas, but they know how reach our hearts and our minds.  
On the other hand, says Brooks, the people who are in the best position to lead us are often the worst at connecting.  
And that is why he (and others, such as Alan Alda's Center for Communicating Science) are determined to help policy wonks and scientists become better storytellers. 
'You have to be able to put on a show in order to educate' 
"How do you teach people what they need to hear instead of just what they want to hear?" he asked. "If you lecture them, you'll either bore them, or you'll scare them. So, what do you do, you tell them a story." 
Fans of his books know this is something he does well. In his novels, dire warnings and potentially lifesaving information are wrapped in a very entertaining package. And while the threatening forces in Brooks' novels, such as Zombies and Sasquatch, may be fantastical, his descriptions of government agencies and the military are well-researched and realistic. Many of the tactics he describes were created for real-life situations, such as surviving an earthquake, or combat engagement.  
Some of his scenarios are so realistic, in fact, that after Brooks published his first book, "The Zombie Survival Guide," he learned that U.S. troops were taking it with them to Afghanistan and Iraq.   
Effective communication, he says, is "a skillset as much as medicine or engineering." 
"You've got to know your audience and how to reach them where they live," he said. "You've got to do the work."  
That Brooks has put in the work is clear. His speeches to military trainees, such as this speech to an audience at West Point, show he's taken the time to learn about their culture, their training, and the risks they face.  
Another example is the comic book "Germ Warfare: A Very Graphic History," which Brooks wrote in partnership with the Bipartisan Commission on Biodefense. By choosing a comic book format, he helps make difficult history and essential information accessible to a wider audience.  
More recently, the filmmaker has used his skills to encourage social distancing during Covid-19. In this short video, he stands outside a house, separated from his father, legendary comedian and film producer Mel Brooks, by a floor to ceiling window. While his father gestures from inside the house, Brooks explains that, if he doesn't keep his distance, he could "wipe out a whole generation of comedic legends."  
To date, the video has been viewed and shared on social media hundreds of thousands of times, featured on the major news networks, and even translated to other languages. It's effective communication: short, funny and touching. And it has likely saved lives.  
'Not just a sasquatch attack book'  
It is not only our poor communication that worries Brooks, but our very chances for survival in a catastrophic event. He argues that, as a culture, we've focused on comfort at the expense of developing practical skills and resilience. It is a theme he explores in his latest book, "Devolution: A Firsthand Account of the Rainier Sasquatch Massacre." 
In the novel, a group of highly educated, successful urbanites use their mastery of technology to create an eco-community "with the comforts of the upper east side of Manhattan in the middle of the wilderness."  
But then Mt. Rainier erupts and cuts them off from the city and high-tech networks they depend on. Winter is coming and, without basic tools or skills, they are at the mercy of nature and a band of roving, hungry sasquatch.  
'The most important things you can think about now are adaptation' 
In "Devolution," as in Brooks' other novels, the characters need to adapt to survive. It's a lesson that we've been learning, painfully, during the Covid-19 pandemic. It's also true of every field in communications, where new technology and platforms create an ever-shifting landscape. 
The ability to adapt is especially important for students and graduates preparing to take their skills and ideas into the world. 
As a storyteller, you have to be adaptable, says Brooks, because things are always changing. The skills you are learning now could become obsolete within years, or even months, he warns, so you have to learn how to learn. It's also important not to get too attached to a single medium or approach. "Film is great, but it's also expensive," he said. "If film is the right medium, you do that. If they're readers, you do that."  
His much-admired graphic novel "The Harlem Hellfighters" is a good example of his practical approach. While he originally envisioned it as a movie script, Brooks realized he could achieve the visual impact he wanted through a graphic novel, but in a shorter timeframe.  
Brooks also wants aspiring filmmakers to understand that the traditional models for production and marketing no longer apply, if they ever did. He advises film graduates not to chase Hollywood. The internet has made it possible to create and bring work to an audience directly. If you create something worthwhile, and you get a couple of million views, he says, "Hollywood will come for you." 
And maybe, he suggests, Hollywood shouldn't be the goal at all. The L.A. native notes that SOC and its students are uniquely positioned to make an impact in policy communication. "You're in D.C.," he said. "The world of governance is at your fingertips and crying out for better communication." 
'Anyone graduating now should be ready to fight' 
Most of all, Brooks warns students against complacency and overconfidence, both in work and life.  
"If you feel confident and secure and master of all you survey, you're doing something wrong," he said. "If you feel small and scared and like on your first day of middle school, that means growth. And that's a good feeling."