Communications
Exploring DC: Media by Metro 2016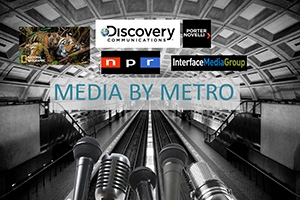 Of the incoming freshmen class at American University this fall, a select 20 new Eagles were accepted into this year's Media By Metro welcome week program. The program offers a fast-paced two-day inside look at some of the most exciting and rewarding communication-driven companies in the Washington D.C. area. 
This year's program brought students to media company Discovery Communications, national magazine and non-profit institute National Geographic, famed syndicator National Public Radio (NPR), production agency Interface Media Group (IMG) and global public relations firm Porter Novelli. Students were exposed to video and audio production at Discovery and IMG, publishing at National Geographic, broadcasting and political media chatter at NPR and the ins and outs of agency work at Porter Novelli. 
One recurring theme of Media By Metro is to connect these new students with members of the American University community who work within the professional areas that students are studying at the School of Communication.  Adjunct professors Ron Elving (Washington Correspondent, NPR), Dave Taschler (Director of Visual Effects, Interface Media Group) and Anthony LaFauce (Vice President, Porter Novelli) were just three of many AU-affiliated professionals to meet with students. 
Discussions at each site visit included inside looks at each company, recent trends in media, advice from faculty and alumni on how to get ahead at AU and advice on how to get started with professional development. 
Standout Comments On Media in 2016
"Try to keep an eye out for what's coming up – today's techniques will become passé" – Adam Hurst, Exec. Vice President, Interface Media group
"News is alive and well, it's just a different way we consume it" – Anthony LaFauce, Vice President, Porter Novelli
"Pictures are still better on radio because the pictures are in your mind" – Ron Elving, Washington Correspondent, NPR 
Some of the Advice Given to New Students
Intern, intern, intern. An SOC Dean's Internship is a great way to get in the door at prestigious companies like National Geographic, Discovery Communications and Interface Media Group. 
Say yes to learning new skills, especially digital skills including web development and coding
Take new classes in subject matters you may not have interest in and connect with your professors.