Communications
Meet the Community Voice Fellows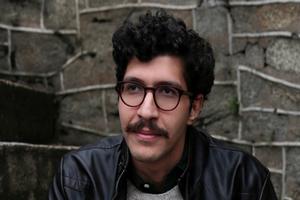 Amin El Siwi is a graduate student in the Film and Media Production program at American University. He has a Bachelor's degree in Actuarial Sciences from Cairo University. Currently, he works as a multimedia producer for the World Bank Group in the communications department with a focus on the Middle East and North of Africa. In 2015, he moved from Egypt to Washington DC to work as a producer for the Middle East Broadcasting Networks. In 2019, he won the People's Voice Webby Award for a short documentary titled "Rukiye." Between 2013 and 2015, he worked as assistant producer and assistant director in independent feature films and documentaries in Egypt. Amin's fellowship entails working with American University's Humanities Truck project in highlighting the work of DMV area climate change organizations through a short documentary.
Haley Klezmer  is an MA candidate in the Film and Media Production program at American University. Currently, she works as a post-production supervisor at True Stories Production Company, which frequently collaborates on the upcoming projects of Academy Award documentarian Barbara Kopple. At Indiana University she received her B.A. in journalism with a multimedia concentration. During her time as an undergrad, she had internships at her local NPR affiliate - WFYI, CBS News in London, True Stories Production Company and The Center For Excellence for Women and Technology. Her short documentary Queen KP received a NATAS Lower Great Lakes Emmy nomination in 2021. This past summer, she was a post-production supervisor on iHeart Radio's 11-part investigative podcast titled After the Uprising: The Death of Danyé Dion Jones. Haley's fellowship includes work on the outreach campaign for the Community Voice Lab Production, Street Reporter. 
Phil Bouknight is a first-year MFA graduate student in Film and Media Arts with a concentration in Documentary Film emphasizing political, cultural, and Social Change.  Phil has always been interested in sharing stories that challenge how we think about marginalized communities and socially oppressed cultures.  Phil's documentary work has highlighted the rising infant mortality rate in Haiti, the growing problem of gentrification in the City of Miami, and now, through American University's Humanities Truck project, Ward 8's battle against climate change, and environmental racism. 
Heather Brumley is an MFA candidate in Film and Media Arts at American University. She has a Bachelor's degree in Theatre Arts and spent many years working in different facets of the film industry in Los Angeles, CA. She recently moved back to the US from Ireland, where she completed an MPhil in Peace and Conflict Studies from Trinity College Dublin. Heather's work and primary field of research while in Ireland centered around storytelling practices as it relates to peacebuilding and trauma. She worked with WAVE Trauma Centre in Northern Ireland, which serves victims and survivors of the Troubles, and completed an oral history project for them set to be released in March of 2022. Heather's fellowship includes assistanting with the Community Documentary course and coordinating the outreach campaign for the Community Voice Lab production, Street Reporter.