Communications
Faculty Filmmaking Team Tackles 'MIXED' Values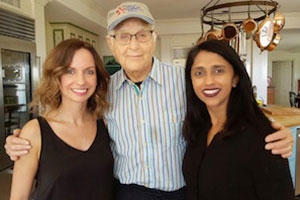 Professors Caty Borum Chattoo and Leena Jayaswal, are co-directing a new documentary on the current state of mixed-race families in America, "MIXED." The issues the film takes on are intensely personal to the women, who are both part of mixed-race families. 
Below is an excerpt from Chattoo's recent feature article about the project and her own experiences as the mother of biracial children. Read the full article on documentary.org.

"Leena and I knew almost immediately that we wanted to team up, embark on a journey of discovery, hear stories around the country and commemorate a unique moment in time. For the past few years, almost a half century after the landmark 1967 Loving v. Virginia US Supreme Court case ended legal persecution of interracial marriage in the United States, we have been off and on the road producing MIXED, which explores what it means to be a biracial child living in a mixed-race family in so-called post-racial America, and the country's deep cultural ambivalence about its rapidly changing mixed-race reality. More than anything, we are in search of answers to our original questions. Along the way, we have become what we call 'reluctant on-screen characters,' which we think is necessary in order to provide authenticity to the narrative journey. It's easily the most vulnerable documentary or public project of which I've ever been a part.
We hope MIXED will offer a new lens into race and the lives of the first generation of mixed-race kids and families to be counted in the US Census, which has only been possible for 16 years. And the backdrop of today has turned out to be particularly meaningful: In an era in which biracial children are trying to understand both racism and white privilege, how do we explain the socio-political construction of race to a child who identifies as more than one? So, what have we—a brown woman and a white woman working together on a film about race—learned so far along the way, in places like New York and Texas and North Carolina and Maryland and Virginia, against the backdrop of Ferguson and #BlackLivesMatter and the historic Obama presidency?"