Lih Receives National Archives Archivist Award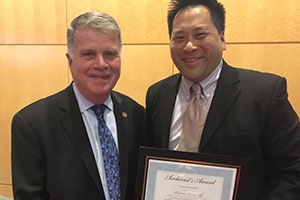 For his outstanding commitment to building a vibrant, participatory culture that spans the National Archives, academia and the Wikimedia community, American University School of Communication professor Andrew Lih received the National Archives and Records Administration 2016 Citizen Archivist Award.
Lih received the award for his commitment to the integration of Wikimedia and the GLAM (Galleries, Libraries Archives and Museums) community – the National Archives being a focal point for much of his work. Lih's vision of bridging the divide between self-organizing, volunteer communities and established, traditional organizations has helped encourage numerous individuals to participate in Archives-sponsored activities and events and has helped foster culture change at NARA.  He teaches a course that enlists AU students in the effort.
A well-known expert on the Wikipedia project, Andrew Lih's book "The Wikipedia Revolution: How a bunch of nobodies created the world's greatest encyclopedia," (Hyperion 2009) is an acclaimed narrative account of the online community that has created one of the most influential Web sites in the world.
Lih is not just a vocal and passionate advocate for the benefit of using web-based tools to spread public knowledge but he is also an active participant. Lih has been a consistent presence at numerous events at the National Archives that have worked to bring diverse communities and individuals together towards a common purpose.