New Hampshire Primary as Classroom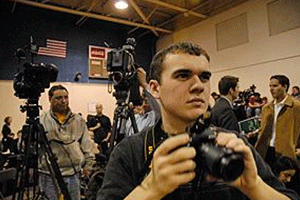 American University School of Communication and the School of Public Affairs are giving students a chance to be a part of the 2016 Presidential election. 
The New Hampshire presidential primary course will be offered for the third time next semester. Students in the class will travel to Manchester, NH, in February to attend political rallies, interview voters, and report on the election. 
"You can get the kind of up close and personal sense of the election that you can't get after New Hampshire," SOC Professor Lynne Perri said.
The course will be taught by six professors, with each bringing a specific area of expertise to the class, and will cover political advertising, polling, and the role of the media in elections.
Read more about the course in The Eagle.