Communications
SOC Announces New Faculty Residency with the Beekeeper Group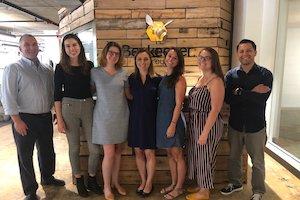 American University School of Communication recently announced a faculty residency program with the Beekeeper Group, a communications and advocacy firm in Washington, D.C. Beekeeper prides itself on using a hive-centric model to help their clients recruit and engage audiences.
Corinne Hoare, a senior lecturer in public relations and crisis communication in SOC, was the inaugural faculty resident. 
Hoare recently completed the one-week pilot term with the firm in early June. During that time, she facilitated a writing workshop and shadowed teams as they worked with clients through digital campaigns.
While she was at Beekeeper, Hoare had the chance to connect and work alongside a few American University SOC alums, including Jessica Phillips, Walter Torres, Jr., Franny Valour, Rhianna Kern, and Mike Panetta, who is now a partner with the firm. Panetta graduated with his bachelors and masters in Political Science from AU. Hoare also caught up on new trends in digital communication, design, writing for social media and generating buzz for policy issues.
"The Faculty Residency experience with Professor Hoare was great at Beekeeper Group as it provided our staff with additional professional development and expanded collaboration opportunities, said Panetta. We look forward to seeing the program grow and were honored to have been the first firm to work with SOC on this endeavor."
Residency programs provide a unique opportunity to combine the best of academia with the best of industry to create a win-win for both organizations and a lasting partnership. Hoare and other faculty residents are able to assist Beekeeper's mission of being an industry leading firm that offers unique experiences and perspectives for its clients. Faculty residents are able to bring that valuable industry perspective back to the classroom to better prepare and train AU SOC students. 
"It was enormously gratifying to work with former students and SOC alumni at Beekeeper Group and to see them excelling in the field," said Hoare. "Our Public Communication faculty always strive to stay ahead of strategic communication trends and that means ensuring we are relentlessly curious and have opportunities to be lifelong learners within the practice. This type of partnership furthers that goal and we're excited about the future of the Faculty Residency Program."