Communications
New York City Career Intensive Gave Me the Opportunity to Get My "Foot in the Door"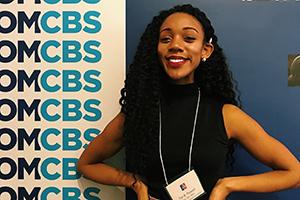 My name is Tori B. Powell, and I am a third-year undergraduate student pursuing a bachelor's degree in both Journalism and Spanish. In January, I participated in AU's New York City Intensive, a joint program of the School of Communication and the Kogod School of Business. The program brings together journalism students and industry experts for two intensive days of site visits and networking opportunities. The experience was transformative: it helped me understand the many paths that a career in journalism can take, improved my confidence and networking skills and, most importantly, helped me get a foot in the door of organizations where I hope to one day work!
As a lifelong planner who always knew that I'd one day go into journalism, I applied to American University in 2017 with the hopes of preparing me to live and work in a big place like New York City after I graduate. 
When I first learned about the New York City Intensive through AU's Career Center in 2018, I started preparing my application almost instantly. but overthinking almost prevented me from even applying. I sent in my application within seconds of the deadline and merely hoped for the best. Unfortunately, I didn't end up getting into the program that year, but it happened to be for the best since it gave me another year to prepare.
Fast forward to the fall semester of my junior year. I had more knowledge this time around, experience through internships, and more confidence in my communication skills. I didn't overthink as much and applied within the first week that applications could be submitted. If you couldn't guess by now, I was accepted as one of 25 undergraduate and graduate students to the 2020 New York City Career Intensive.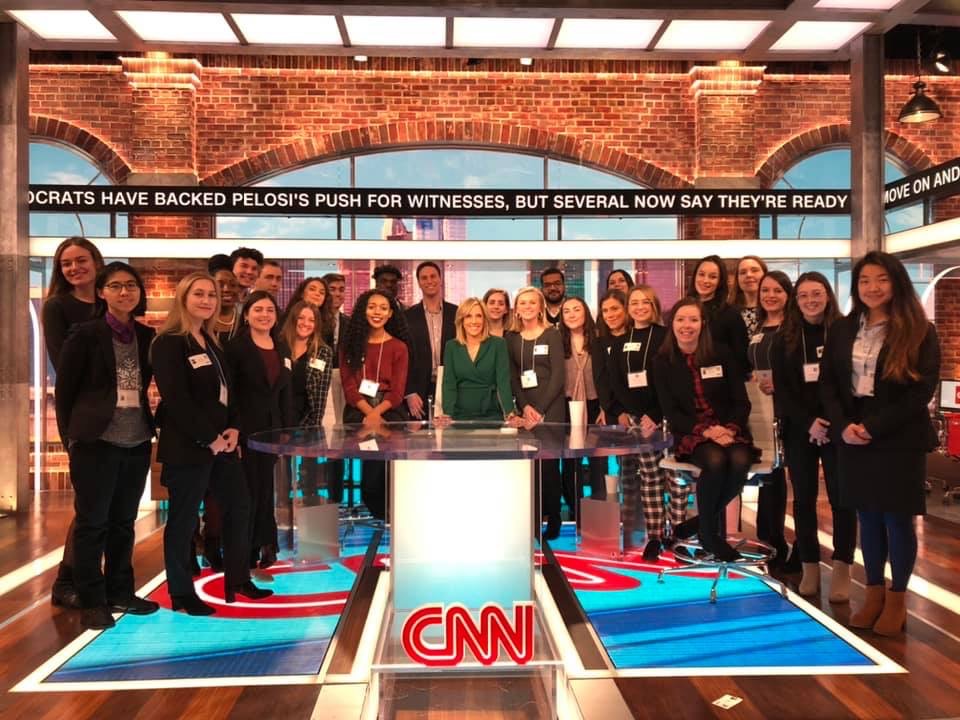 Prior to the two-day intensive, I researched everything I could about the program's site visits, which included CNN, Nickelodeon, The Wall Street Journal, Edelman, MWWPR, and more. I prepared notes for each company and every single speaker and alumnus on the itinerary. This ended up working to my advantage because I formulated specific, memorable, and insightful questions. 
The NYC Intensive is definitely what you make of it. What I mean by this is that if you want to receive the best experience possible through this program, it is upon you to make it happen. As a young journalist, I've often thought about how badly I wish I could get my "foot in the door," or to be given a chance within the world of media. I tried to utilize every opportunity I had to network, ask questions, make myself memorable, and get advice as to how to keep that foot in the door permanently. During the program, I went from nearly shaking at simply introducing myself to my cohort to being the first person to raise their hand. I felt comfortable speaking to experts that could potentially change my career, and that I had once only dreamed of ever speaking to. 
One of the biggest things that I learned through this Intensive is that no professional journey looks the same. At every site visit, I was amazed to hear the professional advancement story of each expert. As a planner, I was relieved to learn that careers are never a perfect vertical progression. I think that sometimes I want definitive answers to questions such as "How can I work for CNN by the time I graduate," or "When will I finally be successful?" I also began to understand that the answers aren't so concrete, that everyone's story should and will look different, but to take a breath and realize that everything will eventually be A-OK.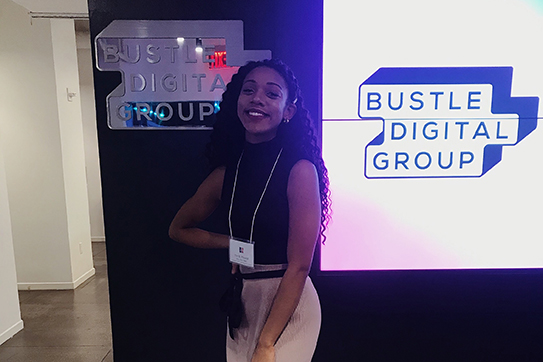 I now have a deeper and more comfortable knowledge of how to truly network. In the past, I had an unrealistic expectation of always being perfect and saying the right things. It was during this process that understood that networking is simply just talking. It's normal to be nervous and sometimes be a little awkward. It allows employers to see your authenticity and more easily connect with you. I can't wait to exercise my improved networking skills not only with the employers I met during the NYC Intensive, but also for the rest of my career. 
I highly encourage students to apply for the New York City Intensive and to keep applying, like me, if you don't get in your first time. You'll meet experts who are eager to help you and network, but you have to be willing to put in the work first. Through the New York City Career Intensive, you'll have the exclusive opportunity to get your foot in the door of world-renowned companies in what I'd consider to be the coolest city in the whole entire world.