Communications
NY Intensive Trip Spurs Student to Pursue, and Nab, Job at MWWPR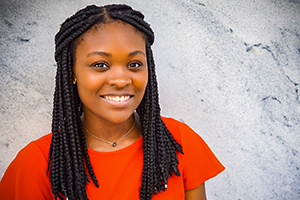 Jackie Anyanwu, an American University School of Communication (AU SOC) Public Relations and Strategic Communication major and Marketing minor, has always been interested in fashion, entertainment, and consumer branding, and knew she wanted to pursue a job in New York.
She had internship opportunities in Washington, D.C., where she was introduced into the public relations and marketing industries, but she felt that she couldn't find the connections or opportunities she yearned for in D.C.
Anyanwu applied for the New York Intensive trip because she wanted to get a first-hand look at companies and organizations in that market and get a taste of what life could be like working in New York.
Her favorite part of the trip was getting exclusive access to some of the largest corporations in the country, including Viacom and Nickelodeon, CNN, and NBC.
"It was very interesting to observe each company and see how each of them are different," said Anyanwu. "Some of them specialized in the same industry but had very different cultures or approaches to the work. A Google search can only do so much, and you get a better idea of the day-to-day life when you have the opportunity to go in person."
Being invited to speak with individuals from some of the largest companies was surreal for Anyanwu, she said. She was able to learn about the experiences and journeys that got them to their current positions, and she was able to see how realistic her goals were.
"These people were once in my same position, and to see where they are now gives me confidence that I could be there someday too," said Anyanwu.
The last visit on the trip was to MWWPR, a public relations agency that was founded and is run by AU SOC alumnus Michael Kempner. Kempner gave a speech and answered questions from the students.
Kempner's manner of paying attention to everyone and giving thoughtful answers was one of the reasons MWWPR stood out to Anyanwu. She saw that he genuinely wanted to help the students. After seeing how uplifting and supportive the work environment was at MWWPR, she knew she wanted to apply right away.
After the trip, she applied for MWWPR's associate program, which would put her in the office the summer after graduation as an intern and she then would be considered for a full-time position. She was offered the opportunity after a round of interviews but soon realized that making the move to New York without knowing if she would have a job at the end of the summer was a risk she wasn't willing to take.
However, Anyanwu kept in touch with the individual from HR with whom she had her interviews, and a few months later she got a call saying that an account coordinator position was available. She went through the interview process again, was offered the job, and this time she accepted.
"It took a lot for me to turn down the associate position, but I'm so glad I did because it led me to this opportunity," said Anyanwu.
As an account coordinator, she will be in charge of one main account as well as media relations for that account. She will be the point-of-contact for media, which will give her great access to networking and the ability to create relationships with press.
Anyanwu's New York Intensive trip gave her better insights into what she wanted in a workplace, and gave her the confidence she needed to make the jump to New York. She was able to network with individuals from some of the most important and prestigious news outlets and PR firms and make connections.
"Being introduced to so many different communication outlets was really amazing," said Anyanwu. "Even though I'm not a journalist, being at CNN helped me see how the industries connect and how valuable it is to create professional relationships. Media has such a large impact on the world and AU and SOC have given me so many opportunities and the skills to make my goals attainable."