Student Photo Exhibit Opens in McKinley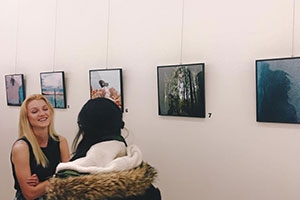 Some of American University (AU) photography students' best work is now on display in the McKinley building. 
AU PhotoLab celebrated the opening of the McKinley Student Exhibit, EN COULEUR. The exhibit displays students most colorful and vibrant work, from portraits to landscapes. 
"Within SOC, there are students that are familiar with submitting their work to juried exhibitions, but also plenty without. There were even students that had never printed their work before," Shaun Schroth, coordinator and curator of the show said. "What better reason to print, frame, and display your work than for a show?"

EN COULEUR features work from: Anna Northrup, MFA Student, Brianna Williams, SOC '16, Emily Hall, SOC '19, Hodan Saeed, KOGOD '17, Kelsey Hasmonek, SOC '16, Lauren Kendrick, SOC Graduate Student, Meghan Nash, SOC '18, Toby Amodeo, SOC + CAS '16, Zachary Porter, SOC '18, Molly Gallagher, SIS '17, Anthony Brunner, SOC Graduate Student, Isabella Lucy, SOC + CAS '18.
The show opened in March but the photographs will be on display until May.