Communications
AU PRSSA Honors Top Students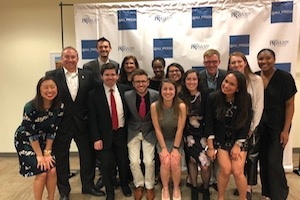 American University Public Relations Student Society of America (AU PRSSA) held its first end of year Awards Ceremony on April 22, and incoming president Diana Ochoa and outgoing president Bryce Ballard both hope the event becomes a tradition. While PRSSA holds many events throughout the year where members network with professionals, this event is a unique opportunity for the chapter to celebrate and network with each other. It was held in the SIS Founders room and there was a delicious catered 3-course meal, the event was open only to AU PRSSA members. The individual awards included:
Outstanding Freshman: Syndey Wishnow
Outstanding Sophomore: Shae McDonald
Outstanding Junior: Kevin Acea
Outstanding Senior: Libby Parker
Outstanding Mentorship Pair: Bryce Ballard & Diana Ochoa
Outstanding Alum: Allie Erenbaum
Most Supportive Professor: Jason Mollica
Additionally, AU PRSSA celebrated members who participated in the Bateman Case Competition, community service initiatives and the PRSSA chapter firm, Eagle Communications. It also recognized the current and future AU PRSSA E-board. Finally, it honored an outstanding partner to the chapter, Washington Media Group, for providing members with internship opportunities and being an incredible client to Eagle Communications, giving it a wide scope of work and many opportunities.