Communications
Public Relations Undergraduate Student Lands Competitive Position at Edelman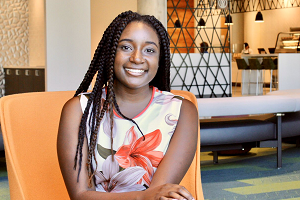 As the school year approached its second semester in 2019, Alyssa Bradley, like most seniors, was anxious about post-graduation plans. The ambitious public relations and strategic communications major has big dreams for her future, and knew that she wanted an opportunity that would allow her to achieve them. When Bradley was chosen as one of eight for a program at a global communications consulting firm called Edelman, she knew that this opportunity would align with her long-term goals.  
"I was obsessively job searching even though it was still so early during my senior year," Bradley said. Over fall break, the student says she applied to many different opportunities around the country, but that she was really lucky to come across an opening on LinkedIn at Edelman that would put an end to her job search. 
Edelman's 12-month immersion associate position allows recent graduates to rotate within practices at the company every few months. At the program's completion, associates are promoted to account executives and can choose in which department to continue working full-time. 
The position appealed to Bradley because it would allow her growth in this company and offer her a platform to exercise her experience from undergraduate studies in the real world. She knew that competition would be fierce, though. In a typical year, Edelman receives hundreds of applications for only eight openings in the program.
Edelman's application deadline was during Thanksgiving break, which Bradley considered to be pretty early. Months after submitting her application, the senior was contacted for a phone interview with a representative from Edelman's human resources department. Later in January, she flew out to the company's headquarters in Chicago to be interviewed by a panel, including senior managers and the president of Edelman herself. After the two-part interview process, the senior was picked as one of eight graduates to join Edelman's 2020 immersion associate program in Chicago, Illinois.
"The process was really intense but they made you feel very comfortable," Bradley said.
As for what helped the senior be a competitive applicant for this selective opportunity, Bradley reflects back to her time studying at American University. 
"SOC was definitely a big reason of them choosing me," Bradley said. "This was the place that I really learned and was able to gain all of the skills that I have now." 
In particular, she remembers the class Writing for Communication to be especially helpful for developing skills in public relations writing. The senior said that at the time, this was her most difficult class, but it provided her the necessary foundation in writing she's continued to build on.  
Bradley also says that she is privileged to study in the nation's capital, which helped her build up her resume. While still an undergraduate, she was able to intern at prestigious companies like Voice of America, Toyota, and APCO. "I think that a huge reason as to why I was accepted could have been because of the big names that I had on my resume, which I can't have without D.C." she said. 
The student said she is looking forward to putting her skills into practice in Chicago and has big plans for her future in public relations. "Hopefully, in five years, I'll maybe be a senior director at an agency, but I eventually want to make it to the White House," she said. "I want to be Communications Director or Press Secretary." 
No matter where she may be in the future, Bradley is grateful for her current reality. "It's such a great place to be in my career so early and have the opportunity to learn different things," she said.