Communications
Pulitzer Fellowships Go to American University Communication Students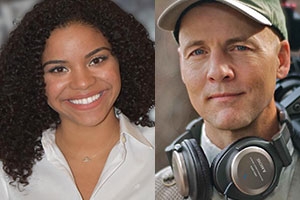 American University (AU) communication MFA student Kent Wagner and graduating journalism major Camila DeChalus have been named 2016 recipients of the Pulitzer Center Campus Consortium International Reporting Student Fellowship. Wagner's reporting project will examine the environmental devastation in Borneo through the lives of the people most directly affected by it. DeChalus' work will explore how the Catholic Church is combating climate change in Colombia and how it is raising the public's consciousness about climate-related issues within marginalized communities that have remained silent for years.
"These projects explore one of the most pressing issues of our time, from two very different angles.  I look forward to seeing both what they reveal and the impact they will have," said Jeff Rutenbeck, dean of the School of Communication (SOC).
The fellowships, open to all AU students, are one of the benefits of SOC's membership in the Pulitzer Center on Crisis Reporting Campus Consortium. The Campus Consortium initiative is a core component of the Pulitzer Center's effort to create awareness campaigns around the global systemic issues that affect us all.
The students were chosen based on a project proposal involving an underreported systemic issue. Each student fellow will be awarded $2,500 to help pay for the reporting project. Pulitzer Center staff and journalists act as mentors for students throughout the fellowship, with final products featured on the Pulitzer Center website. Fellows also work with the Pulitzer Center in efforts to further disseminate the work through media partners.
2015 fellows AU SOC Ph.D. student Kara Andrade and Julia Boccagno, (SOC/BA '15)  completed impressive multimedia packages developed through original investigative work in Mexico and Thailand. The murder of one of Andrade's sources shortly after she left Mexico makes her work all the more valuable and poignant.
AU's Center for Latin American and Latino Studies (CLALS) is a contributing partner to this initiative and its Luce Foundation-funded work on religion and Latin American affairs will be supported by DeChalus' work in Colombia.
Meet the Fellows:
Kent Wagner
Kent is a photographer, audio producer, and filmmaker concentrating on science, natural history, and environmental subjects. He has completed projects for the National Park Service, NASA, and the USGS. A past engineering major at Berklee College of Music, he holds a degree in Electronic Media and Film from Northern Arizona University, and is an MFA candidate American University. See his work at www.kentwagner.com 
Camila De Chalus
Camila DeChalus is a multimedia journalist who wants to combine her passion for storytelling and global affairs to educate the public about social issues that go underreported. For the past four years, Camila has pursued a Bachelors of Arts degree in Broadcast Journalism and minored in Latin American studies at American University. She has also served as a leader of an Alternative Break Program to Cuba, and a participant in the Public Policy of International Affairs fellowship program. Camila hopes to use the work experience she gained at various television companies like Voice of America and Univision to continue to report about issues that occur in Latin America and in Africa.  See her work at https://www.camiladechalus.com