Communications
Alumna Is 'On the Move,' Says Business Journal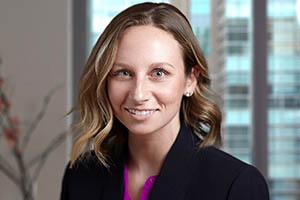 Alexis Janney, an alumna of the American University School of Communication Strategic Communications MA program, has been working for GreenSmith Public Affairs as a senior accountant executive since graduating from AU in the spring of 2018. She was named one of Washington Business Journal's "People on the Move" earlier this year. SOC writer Shanzeh Ahmad recently spoke with Janney about her job and how AU furthered her career and aspirations. Janney also shared her top four takeaways from her time at SOC.
Q. What does your job entail? 
A. Currently I work at a 20-year-young boutique public relations and public affairs agency, GreenSmith Public Affairs. As a Senior Account Executive at a smaller firm, I wear many hats. My role includes day-to-day tasks as well as higher-level thinking and administrative responsibilities. I'm responsible for managing and executing deliverables for some of our accounts, recruiting and supervising our entry-level employees and interns, pitching and securing earned media placements, creating and editing content, and assisting with new business proposals.
Q. How did you first get involved with GreenSmith?
A. I met my boss, CEO and owner of GreenSmith, through a mutual friend. Knowing that I was interested in entering AU's strategic communication program and the PR industry, he offered me an informational interview. A few months later, I was offered a position as an Account Executive. In those few months I learned so much about the industry and some of those fundamentals I had been lacking. It really helped the learning curve for when I started at AU. I worked part-time while completing the program full-time and secured a full-time position (and promotion!) after graduation. 
Q. How did AU affect your career?
A. Because I'm a fast learner and work hard, I was capable of the tactical execution of our deliverables at GreenSmith before getting my degree. Since earning my degree from AU I'm much more capable of higher-level thinking and strategic planning for our clients. It has helped the creative processes at my job and has added significant value to our strategic planning for current, returning and new clients. It has also improved my writing ability, time management skills and understanding of the industry.   
Q. What attracted you to communications and public relations?
A. Though I come from a science background, I've always had an interest in interpersonal communications and working with people. In retrospect, the biology major actually prepared me quite well for my current role. When you're working in science, it requires a lot of communicating and teamwork. The PR industry demands both of these skills.
I originally entered the biology program at my undergraduate school because I aspired to be a doctor. I wanted to help people. Though it's easy to see how the medical field directly helps people, media and communications also have a profound impact on people, and depending on the message, can be positively impactful.
Q. How did you know you wanted to get your master's in strategic communications from AU?
After the realization that communication was a true passion of mine, I knew that there were real fundamentals I hadn't learned through my undergrad experience or job experience. I began the college search all over again, though this time with more direction (and guidance thanks to my profession in the admissions world). When I came across AU's program in Strategic Communication, I knew this was the program I was looking for. The courses that are offered and the relatively small program were very appealing to me. I came from a small school with close interaction with students and faculty.
Q. What were your career goals when you started the master's program at AU? What are your goals now?
A. When I started the program, my career goals were still unclear. I was lucky enough to not only have a part-time job GreenSmith but was also was placed with Professor Pallavi Kumar as her graduate assistant. My knowledge of the industry grew exponentially being able to work with my colleagues at GreenSmith and working with Professor Kumar.
I'm very happy at GreenSmith and plan to stay here for now. Eventually, I think having larger agency experience would complement my industry experience. Small and large firms operate fairly differently. I think those differences are important to know if you plan to climb the ranks. Ideally, I'd like to be in a managerial role with higher-level responsibilities rather than the tactical execution of the PR efforts
Q. Anything else you would like to add or let AU students know?
A. Reach out to your alumni network! Many of us participate in webinars or lectures because we want to connect with students and help them with their career trajectory. Keep in touch with your classmates and professors, they are lifelong relationships. Don't be discouraged by failures. You will fail, and you will learn, and you will do better next time. Your profession is important, now more than ever, and don't take that for granted.