Communications
American University Game Students JOLT GDC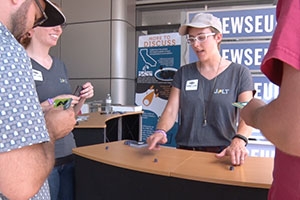 American University (AU) Game Design MA student Joyce Rice will be speaking at this year's Game Developers Conference (GDC) on a panel, Community Engagement at the Intersection of Game Design and News. GDC is the world's largest and longest-running professionals-only game industry event, attracting over 26,000 attendees each year.

The panel topic is one she and fellow panelists Cherisse Datu and Kelli Dunlap have been exploring over the past year as fellows for the JoLT initiative. JoLT seeks to understand how games can address the biggest problems in news media and is supported by the John S. and James L. Knight Foundation. The three students will be joined on stage by AU Game Lab Director Lindsay Grace, who leads the JoLT team.

SOC sat down to talk with Rice about the panel, JoLT, and the game design industry.

SOC: Your panel, on applying game community engagement and community management to the media industry, is a departure from standard GDC fare. Why do you think it's important (or useful) to have this sort of trans-disciplinary discussions at GDC?

Joyce Rice: I believe we learn a lot from examining our work from other angles. As designers we tend to become pretty siloed in our home corners of the media industry. It's really valuable to look at how solutions might evolve and grow when applied to new spaces. Community management in the digital realm is still a very new field, and there's lots of overlap between the kinds of problems game designers face and the kind that news designers face. Having this conversation at GDC gives us as game designers the opportunity to examine how we're facing our own community problems, and it gives us as news designers the opportunity to apply unique learnings to our conversations and hopefully come up with some tools and ideas that can help everyone.

SOC: What are the JoLT findings about the application of game design concepts to media and other non-game industries?

JR: Games give us the opportunity to play with systems, which is applicable to many non-game spaces. In the past year, we've approached this idea from many different angles and found that storytelling through procedure, mechanics, and systems is deeply applicable to non-fiction and journalism spaces. We've also worked on how we might change the culture of non-game industries by applying play to the creative process. Games embrace ambiguity and create safe spaces to take risks—when we apply those lens to other industries we arrive at work that is innovative, challenges broken protocols, and informs new standards and tools.

SOC: What has the JoLT project taught you about game design / how has the JoLT project influenced your appreciation of game design?

JR: JoLT has taught me that game design can do so much more than just make games. Through studying play as well as games, I've had to opportunity to look closer at why certain activities engage us, make us think, and inspire creativity. It's helped me to make more intentional decisions regarding interactivity in the non-fiction work that I produce, and it's helped me talk to other media professionals about what they can do to make their readers feel like they matter. Through JoLT I've also come to believe that we can use games to explore and influence all kinds of systems, from office culture to the study of art history. While a game might not be the appropriate solution to every problem, "playing" with ideas and solutions and understanding how things fit together is never a bad idea.

SOC: You and your fellow panelists (fellow AU Game Design students and the program director) have a range of non-game professional backgrounds. It's rare for students, or for anyone outside of the games industry to be talking about games at GDC. How does it feel to have earned such an opportunity?  

JR: It is very exciting to be invited to speak from our unique perspective. I hope that as the games community is growing, it sees the potential for mutual benefit by collaborating with folks from other industries—I know that's been extremely helpful to the comics community as it has rapidly evolved in the past several years. By embracing new voices and viewpoints, we have the opportunity to learn from each other and collaborate across sectors to make new work no one's yet imagined possible.

SOC: What do you hope people will take away from the panel?

JR: I hope that people will see the massive opportunity for collaboration within the media industry. The internet, new design tools, and increasingly incredible mobile technology blur the lines between media sectors all the time. There's tons of space for game designers and news designers to help each other succeed. We just have to make those new friendships and be open to learning from each other!

SOC: What do you most look forward to about GDC?

JR: I'm really looking forward to meeting lots of new folks and talking about games all week! I love conferences that give opportunities to share ideas and collaborate. This will be my first GDC and I can't wait to learn lots of new things and get super invigorated about this year of JoLT projects.


SOC: The game industry has a poor reputation when it comes to diversity. Your panel includes three women and two people of color, which reflects the composition of the American University Game Design program. Do you think this is a sign that the game community at large is diversifying?

JR: I believe the growth of the independent community is bringing about a new renaissance for games. We live in a time where the tools for design and distribution are more accessible than ever, and that allows new voices to come into the fold. I've seen the same thing happening in comics over the past ten years. It's hard to say what will happen to either industry at large, but I do think we're going to continue to see massive growth in diversity in the independent community, and that the consumers of independent media will continue to multiply. Hopefully this will reach mainstream popular culture as well, though we have a lot of work to do to get there.

SOC: What drew you to the JoLT project and the Game Design MA program at American University?

JR: Before JoLT I was working on ways to bring journalism to new audiences via comics and new ways to design nonfiction. As a gamer, when I saw that the JoLT program was looking at news and newsrooms through the lens of game design, I really felt like the program was tailor-made for me. There are so many fantastic voices in the MA program, and the JoLT team is super dedicated to answering these questions, so it's been really great.

Joyce Rice is also an expert illustrator and interactive designer who specializes in sequential storytelling, interactive content, and publication design. She's the cofounder and creative director of Symbolia, a media organization that crafts intriguing narratives that merge illustration and interactivity with top-notch journalism. You can find her on Twitter as @teenyrobots.