Communications
Q&A: From Paralegal to Public Relations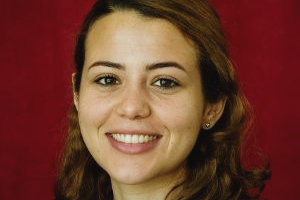 After graduating from Florida State University in 2016, Andrea Ploch moved to New York City to become a paralegal, and quickly discovered that it wasn't the right path for her. She decided to instead follow her interest in the public policy and foreign affairs sectors, which brought her to American University School of Communication (AU SOC). She is now a first-year student in the Political Communication MA program and currently working at APCO Worldwide. She plans to explore global public relations in the short term, before pursuing a career in foreign service with the State Department.
SOC: Talk about your experience prior to entering the Political Communication program and what led you to AU.
AP: After taking a gap year, I took some time to consider what my career goals were. I knew I wanted to be in Washington DC and eventually join the State Department as a foreign service officer. However, instead of studying foreign service, I considered political communication to be a better option. Domestic issues are intrinsically intertwined with diplomatic duties. I considered that if I did not know my country well from within, including the processes by which we communicate, how to read the current political environment, and the issues that are facing us, I would not be able to be an accurate representative of the US.
SOC: Talk about your experience working as an intern at APCO Worldwide.
AP: APCO was completely unexpected. I considered the internship because of my legal studies background and the opportunity to be paid (as an intern). However, when I arrived, I immediately knew public relations was the field I wanted to pursue domestically before foreign service. Learning the art of persuasion, and how to employ it, has been incredible. I am more aware and strategic in my thinking because of the intertwining between my current internship and my master's program.
SOC: How has your experience in the Political Communication program directly impacted your day-to-day responsibilities as an intern at APCO Worldwide? Are there any particular skills that you have learned that you apply to your job every day?
AP: I understand the jargon of the field better. As someone with zero prior experience in communications, the fact that I learned what an ad buy, geo-fencing, and op-ed are, then watching it come to life at work, was fulfilling.
SOC: What have been your favorite aspects of the Political Communication program?
AP: The professors. As a graduate student, you are not a child anymore and the teachers reflect that. Working 40 hours a week and attending full-time graduate school, my professors have worked with me in every step of the way, offering me tools, resources, and advice for the obstacles I have voiced concerns about. I could not be more grateful. Especially since when you meet other people in the program that work full-time too, have school full-time as well, and somehow throw in marathon training and still turn in everything perfectly, your self-esteem is not the greatest. Yet, the professors understand that we are not all alike, and by nature, how one handles their work differs from another.