Communications
Covering Politics: Q&A with CNN Reporter Dan Merica (SOC/MA '11)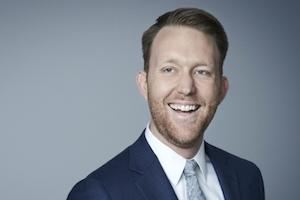 American University (AU) alumnus Dan Merica (SOC/MA '11) is a political reporter at CNN who is currently covering the Trump Administration. He covered Hillary Clinton's campaign in the 2016 presidential election. AU School of Communication (SOC) asked Merica about his experience thus far at CNN and how his time at SOC helped prepare him as a journalist in the field.

Q: What do you think is the top skill someone needs to be an effective and successful journalist today?
DM: Persistence. Journalists frequently run into roadblocks: People won't call you back, the document you need isn't easily accessible or your emails feel like they are going into the black hole of the Internet. But persistence is critical because the best stories are often the ones that are the most difficult to nail down.
Q: What is the most interesting thing about being a journalist at CNN?
DM: I have loved getting to travel the world at CNN, but the most interesting part of my job is simply talking to people. I covered Hillary Clinton's 2016 campaign, an assignment that took me all over the country. And at every rally I enjoyed talking to the attendees about how they felt about the former Secretary of State and how they viewed the election. Those conversations helped make our coverage more accurate, because, at its core, political reporting is about the people who decide to step into a ballot box.
Q: Can you share a story you broke or covered that you are particularly proud of? Why?
DM: Covering the election was an incredible honor. I broke stories throughout my few years on the campaign trail, but I would say it was the entire experience - from long, cold winters in Iowa to the day Clinton conceded the election to Donald Trump - that made me proud to be a reporter and work for CNN. It was exciting and fulfilling and something I would recommend to any young journalist looking for the experience of a lifetime.
Q: What would surprise people who do not work in the media most about your day-to-day work?
DM: I think people would be surprised by how much work and time journalists put into stories that never actually get published or make air. Some of our best work, at times, is deciphering whether a story is worth pursuing or whether a competitor's story is accurate - and I am often proud of the context my colleagues and I can provide to a story that is already out there because it ensures that our viewers and readers get the most accurate retelling of the news.
Q: What are two skills or lessons you learned at SOC that you use now?
DM: SOC taught me a great deal about the machinations of a newsroom that I had not learned during my undergraduate education. But by far the most enlightening lessons I learned at SOC were the legal and moral questions that arise when pursuing important stories. I often find myself thinking about the lessons from John Watson's "Communication Law" class when trying to understand a stories importance or deciding why a source is telling me certain information.