Communications
RBG Documentary Launches International Cinema Series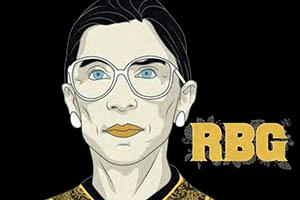 The International Cinema Series (ICS) opened in early October at American University School of Communication (AU), featuring a screening of the documentary, RBG, an acclaimed documentary directed by Betsy West and Julie Cohen following the life and history of Justice Ruth Bader Ginsburg and how she became a pop culture icon. The post-screening discussion was led by Betsy Fischer Martin, the Executive Director of the AU Women and Politics Institute, and included panelists Robert Barnes, who covers the Supreme Court for the Washington Post, and Julie Cohen, the co-director of "RBG".
"RBG" depicts Justice Ginsburg's rise to the U.S. Supreme Court, showing her early career as a lawyer who fought against gender-discrimination, as well as her infamous dissents as a sitting justice. Through various intimate footage and interviews with close friends, family and colleagues, "RBG" offers an inside look of the life of Justice Ginsburg.
"What I really loved about the film was that they were able to really show and highlight all of her amazing work even before she got to the [Supreme] Court," Fischer Martin said. "Everybody sort of knows the 'Notorious RBG' and her voice on the [Supreme] Court, but I don't think a lot of people had a full appreciation for her instrumental effect on a lot of equality issues for women."
During the panel discussion, Cohen discussed the difficulties of getting Justice Ginsburg to agree to be a part of the documentary, acknowledging that, at the time, there weren't any documentaries about sitting Supreme Court justices with the justice's participation. There probably aren't many Supreme Court justices who could attract an interested audience, Cohen said.
"I think what's really unique about Justice Ginsburg and [what] made her sort of ripe for being the center of a documentary film is the great personal story and the odds that she overcame in her own career," Cohen said. "And then capping it all off with this weird, final chapter of her becoming this pop culture sensation as a woman who's now 85 years old. There just aren't that many 85-year-old rock stars in our country, but she is one."
The film series was organized by the ICS, a partnership between SOC and various arts groups and embassies throughout the District of Columbia, said Sharon Metcalf, the Senior Director of Strategic Partnerships and Programs for the SOC and the primary organizer of the event.
Every year the ICS picks a timely topic and this year it's women's stories that reflect on "the importance of gender-balanced perspectives," Metcalf said. "This film series gives voice to vital and diverse female viewpoints through dramatic features, documentaries and shorts."
The launch of the 2018-19 series was particularly relevant, as Justice Brett Kavanaugh's Supreme Court confirmation hearings were coming to a bitter end after two weeks of contentious public debate.
"Of course, we had no idea that the Supreme Court would be first and foremost on everyone's mind when we selected RBG as our opening night film last spring," Metcalf said. However, in light of Justice Kavanaugh's confirmation, Metcalf said, "[Justice Ginsburg] is most important at this point."