Communications
School of Communication Alums to Be Honored at All-American Weekend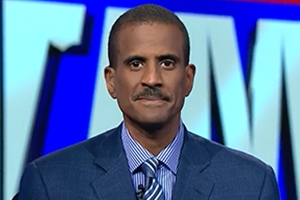 The American University Alumni Board and the Office of Alumni relations will honor two graduates of the School of Communication (SOC) journalism program on October 20. David Aldridge, (SOC/BA '87), will receive the The Neil Kerwin Alumni Achievement Award, which recognizes alumni who have distinguished themselves through their professional accomplishments. Tara Palmeri, (SOC/BA '08), will receive the Rising Star award, given to recent American University alumni who are making significant contributions to society through their professional or philanthropic work.
Selected annually from nominations submitted by faculty, staff, and alumni from around the world, these awards are the highest honors presented by the Alumni Association.
Neil Kerwin Alumni Achievement Award - David Aldridge, SOC/BA '87
David Aldridge is the "insider" for TNT, covering breaking news both for that network and for NBA TV and NBA.com, and serving as a studio analyst on NBA TV programs. David also writes the popular weekly "Morning Tip" column for NBA.com.
He has covered the NBA for nearly 30 years as a print, broadcast, and digital journalist, and was recognized for his work in 2016 with the highest award a reporter covering the league can receive: The Curt Gowdy Media Award from the Naismith Memorial Basketball Hall of Fame. His career has included stints at The Washington Post and the Philadelphia Inquirer, where he covered most of sports' biggest events, from the Super Bowl to the World Series, and the 2016, 2012, and 1992 Summer Olympic Games.
A longtime member of the National Association of Black Journalists and of NABJ's Sports Task Force, Aldridge was the recipient of NABJ's 2016 Legacy Award, given annually "to a black print, broadcast, digital, or photo journalist of extraordinary accomplishment who has broken barriers and blazed trails." Aldridge is also a past winner of the Sam Lacy Award as Journalist of the Year from the Rainbow/PUSH Coalition.
"To get an award named after Dr. Kerwin is especially gratifying, and to be thought of in the company of Jack Cassell, Lonnie Bunch, Barry Josephson and my friend Jim Brady is humbling in the extreme," he says. "The relationships and friendships I formed there are still among the most meaningful in my life." Aldridge even met his future wife at American University in Mary Garydon 227, a room that no longer exists.
Aldridge graduated from American University in 1987 with majors in print journalism and history.
Rising Star Award -Tara Palmeri SOC/BA '08
Demonstrating her Rising Star status, Tara Palmeri just announced a move from POLITICO to ABC News, where she will continue working as a White House Correspondent, joining senior White House correspondent and fellow AU SOC alumna Cecilia Vega (SOC/BA '99) and chief White House correspondent Jonathan Karl. Palmeri is also a CNN analyst and was previously a CNBC contributor.
Before joining POLITICO's DC team, Tara reported for its European edition, where she covered the Paris and Brussels terror attacks, the Greek financial crisis, and the British referendum.
Prior to moving to Europe, Palmeri reported on local politics for the New York Post. She started at the newspaper as a reporter for "Page Six," NYC's premier gossip column. The John Edwards trial, the 2012 Republican and Democratic National Conventions, and the Newtown, Connecticut massacre are among the high profile assignments she has covered.
During President Obama's first term, Palmeri co-authored The Washington Examiner's "Yeas & Nays" column on people, power, and politics in Washington, DC. She started her career as a news assistant for CNN shortly after graduating summa cum laude from American University in 2008.
"I can't wait to celebrate alongside some of the many professors who have not only educated me, but mentored me," she says. "AU taught me the skills I needed to feel confident in the industry. Having an AU alumni binder in hand for my interviews was also helpful."
SOC is also hosting two events during All-American Weekend:
SOC Dean's Reception
October 21, 2017
11:00am - 12:00pm
McKinley Building - Media Innovation Lab
Interactive Media - Yesterday, Today, and Tomorrow
Professor Benjamin Stokes
October 21, 2017
2:30 p.m. - 4:00 p.m.
Don Myers Technology & Innovation Building - Game Lab