Students Awarded for Community Service and Leadership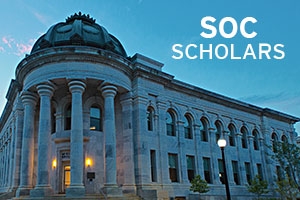 Dyáni Brown, Mary Margaret Koch and Shannon Scovel were honored at the 2016 American University Honors and Scholars Award Ceremony in February.
The three School of Communication students were recognized for going above and beyond to help others within their communities.


Dyáni Brown, a senior public communications major, is deeply involved in social justice work on diversity and representation both on and off campus. She has served as elected chair of the Shinnecock Nation Tribal Council on Long Island and is currently Vice President of Student Advocates for Native Communities at AU. Brown was also among the students involved in writing the book, Gasping For Air: Letters about Race and Social Injustices in America.
Awards: Harry S. Truman Scholarship (finalist), Morris K. Udall Scholarship, Community Service Award
As the current editor-in-chief of The Eagle, junior Shannon Scovel has applied her print journalism background to help the student-run paper win multiple awards. When she is not working with The Eagle, USA Today or AOLSports.com, Scovel has dedicated time to help the SOC community by coordinating several events for current and prospective students through the SOC Ambassadors.
Award: Outstanding Leadership in AU Community
Sophomore SOC student, Mary-Margaret Koch, implements both her communications and political science majors as Director of Mental Health Advocacy for the AU Student Government, serving as a liaison between students and the Counseling Center. Koch recently designed and executed a mixed methods study with AU's counseling center to pinpoint AU students' mental health needs and AU's response.
Awards: Outstanding Leadership in AU Community, Outstanding Leadership in Community-Based Research Scholars