Communications
SOC Journalism Graduate Students Report on Local Races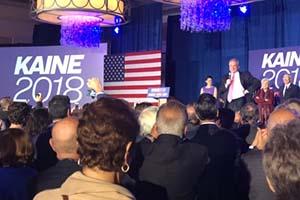 Along with other D.C. news organizations, the SOC's graduate journalism students spent Election Day and night reporting on the region's midterm races. Five of the graduate students -- Sommer Brugal, Cindy Choi, Orion Donovan-Smith, Marisa Iati, and Liz Weber -- contributed to The Washington Post election coverage that included advance stories on the area's various races. They spent hours in the morning rain at various polling places talking to voters. The students also reported on the win by D.C. Mayor Muriel Bowser. "Overall, it was a really great opportunity to see how a large news organization covers fast-paced and breaking news," Weber said about her experience feeding interviews and photographs to the Post.
Courtney Rozen, a 2018 AU journalism graduate, spent Election Day working for NPR, where she is an intern. She wrote a piece for NPR.org on "Four Myths About College Students and Voting" that ran on Nov. 6.
Others students attended election night "watch" parties in Virginia, Maryland and the District. The students interviewed campaign supporters at the parties for Virginia Sen. Tim Kaine, for Virginia 10th District House incumbent Barbara Comstock and her Democratic challenger Jennifer Wexton, for Maryland Gov. Larry Hogan, as well as the D.C. Council at-large race between Elissa Silverman and and Dionne Reeder. "Covering the Tim Kaine event was incredible. I've never covered anything with that kind of energy and excitement before," said Taylor Potter, a graduate student from Louisiana. "Being around reporters from some of the area's biggest news organizations and hearing from figures like Terry McAuliffe and Ralph Northam was surreal. It's one of the best experiences I've had in journalism, and I learned so much from being in the thick of it."
The students recorded audio interviews and created an election wrap-up podcast for the graduate program's online news website The Wash. The podcast can be heard here. Other students wrote digital news stories and took photographs for The Wash, providing advance news stories on voter turnout, women running for office, and voting security as well as talking with the candidates and their supporters at the campaign election night events. The podcast and digital stories were edited by Journalism professors Jill Olmsted, Jeremiah Patterson, Lynne Perri, Rob Roberts, and Christine Lawrence, all of whom helped to coordinate the election coverage.
Such real-time, daily news reporting is what makes the SOC's master's in journalism and public affairs such a valuable degree. The students are more than well-prepared for the demands of daily journalism.