Communications
Networking Opportunity in New York City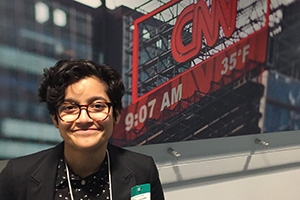 The Career Center, Kogod School of Business, School of Communication, and the Office of Development and Alumni Relations invite you to participate in the NYC Site Visit Trip January 9th-10th, 2018.
About the Trip:
Designed for career exploration and in-depth networking, the trip offers a select cohort of up to 25 students exposure to career paths and industry trends as well as exclusive access to AU alumni living and working in New York City.
Attend in-depth site visits with a range of organizations over the course of the two days and have the opportunity to engage with New York-based alumni at a student-alumni networking dinner on January 9th. To apply, search 129952 in Job Postings in AU CareerWeb for more information. Application deadline: Monday, November 13
Draft trip schedule below.
Day 1
9:00 AM - 11:00 AM Site 1 (arrive by 8:15 AM; initial checkin)
12:00 PM - 2:00 PM Site 2 (arrive by 11:30 AM)
3:00 PM - 5:00 PM Site 3 (arrive by 2:30 PM)
6:30 PM - 8:30 PM Student-Alumni Networking Event
Day 2
9:00 AM - 10:30 AM Site 4 (arrive by 8:30 AM)
11:30 AM - 1:30 PM Site 5 (arrive by 11:00 AM)
2:30 PM - 4:40 PM Site 6 (arrive by 2:00 PM)
Confirmed host sites for January 2017 were:
CNN
Dow Jones
FOX News
MWW
Nickelodeon
UEG
Eligibility Requirements:
Sophomores, juniors, seniors, and graduate students interested in pursuing a career in marketing, advertising, public relations, journalism, television, film, or a related field are eligible to participate. Additionally, students must be in good academic and judicial standing
Application Materials
You must submit these four documents for your application to be considered.
(1) Cover Sheet (See the "Attachments" section below)
(2) Resume
(3) An unofficial transcript that demonstrates a minimum cumulative GPA of 2.5 (transfer students/first-year graduate students may submit their most recent transcripts from their previous institutions).
(4) Statement of purpose in 600 words or less
Give us an overview of what makes you tick, who you are, and where you're headed.
Describe what you hope to get out of the program and your career goals.
Describe what you have to offer that makes you stand out as someone who will make the most of the experience.
Make sure you name is listed at the top
Proofread your work!
Applications will be accepted through AU CareerWeb/Kogod CareerSource (search for position number 129952 on either page) until Monday, November 13th at 11:59 PM.

As space is limited, the trip fills quickly. Applications will be reviewed in the order in which they are received and evaluated on the quality of the application materials. Preference will be given to those who demonstrate a career focus and professionalism through the application process. Incomplete applications will not be reviewed. It is selective, and meeting the minimum requirements does not guarantee acceptance in the program.

Students will be notified of their selection status by Monday, November 20th.

Acceptance to the program is conditional. There are some milestones that must be met before you can officially enroll. These include:
Submit a $100 non-refundable registration fee* (cash, credit, or debit).
Attend the pre-departure orientation on Tuesday, November 28th, Time and Location to be determined.
Meet with an SOC Career Advisor to review your resume
Submit your approved (by an SOC Career Advisor) resume to smitc@american.edu.
Clearance of all restrictions to registration
All participants are responsible for making travel and lodging arrangements, as well as for all meals unless otherwise indicated in the final schedule.
Questions? Contact Samantha Mitchell (smitc@american.edu)