SOC Shines at National Capital Emmys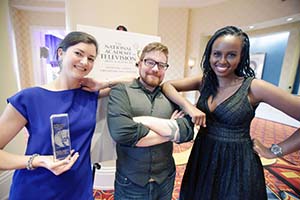 American University School of Communication students and alumni took home awards and a scholarship at the National Capitol Chesapeake Bay Chapter Emmy Awards June 25.
Vanina Harel received the student Emmy for best short form non-fiction for her film Vey Nou Lagon, an inspirational film that follows a traditional artisanal fisherman and his family as they tell us the story of the Mauritian lagoons and show us the current state of the ocean. The film is one of several environmental films developed during Harel's time as an MFA student at SOC, and is supported by SOC's Center for Environmental Filmmaking.

Rising senior, Murugi Thande, a film major, was awarded the Betty Endicott Scholarship on the basis of her work at WUSA9 as an Emma Bowen Foundation Fellow, in particular a piece she conceptualized and produced for the station, "Women of WUSA." It was one of three awards Thande took home that week, the others being a Gracie Award and an Emma Award.

Interactive Journalism MA alumnus Jon Hussey received two awards for his work as managing director of digital for George Washington University.