Communications
SOC Student's 'Operación Frijol' Feeds Hungry Families During Covid-19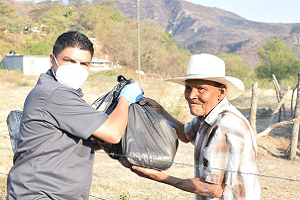 Home in Honduras to wait out Covid-19, School of Communication senior Ana Lezama could easily have spent the final weeks of her college career in pajamas, keeping busy with online classes. Instead, she and her friends, working mostly from their bedrooms, started a humanitarian movement. 
Before the pandemic, Lezama, who will complete a double major (Public Relations and Strategic Communications from SOC and Business Administration from the Kogod School of Business), was focused on the usual concerns of college seniors — where to live after graduation and landing the right job. But when AU closed campus and moved classes online, her world turned upside down. She returned to her family and her childhood bedroom, where she was confined for a two-week quarantine. 
The time wasn't wasted, though. Lezama reconnected online with high school friends, many of whom had also returned abruptly from studying in the United States. They were all concerned about the hardships the pandemic would create, especially for more vulnerable populations. They knew that if the strict lockdown kept people from earning a daily wage, many of the poorest families would go hungry.  
The friends started by raising money within their group, collecting enough to feed 100 families for a week. Then they considered their combined skillset — in addition to Lezama's communication and PR talents, the founding group includes students of graphic design, videography, and computer programming — and decided they could do more. 
And so, Operación Frijol (Operation Bean in English) was born. The friends set an initial fundraising goal of one million lempiras (about $40,000), enough to feed 3000 families for one week. Today, less than one month after the launch, it has become the private platform of choice for Covid-19 relief in Honduras and they've exceeded their fundraising goal, already delivering food baskets to more than 700 families.  
The group works in partnership with the Catholic Church to identify needy families and deliver food baskets. The baskets, which include staple foods such as beans, rice, and flour, seem like a bargain to some U.S. donors. "Many people are surprised when I tell them that a $15 donation will feed a family for a week," Lezama said. 
They raise money both in Honduran lempiras, through the Honduras fundraising platform Abrassos, and in U.S. dollars through a network of friends and contacts. To reassure donors, they've meticulously documented the funds received and set clear standards for implementation. They aim to deliver a basket to a family within three days of receiving a donation.  
The donor response has been tremendous, but Operación Frijol's ambitious goals go far beyond emergency fundraising. The organization, which originally included about 15 friends, now counts 160 "ambassadors," all of them young adults. It has been endorsed by local celebrities, like soccer star Brayan Beckeles and San Francisco Giants shortstop Mauricio Dubon, tagged by social media influencers and covered on radio and prime-time television. They are building a web site and have partnered with a local entrepreneur to print out t-shirts. 
In short, they've started a humanitarian movement. 
And that's why, Lezama says, the skills she's learned at SOC have been so important. In lockdown, social media has been the main driver of the movement: they use LinkedIn, Twitter, Instagram, and group links on WhatsApp. Every day, she draws on lessons from the classroom, such as targeting an audience and developing a social media strategy.  
Lezama, along with fellow SOC student Paulina Rivera, has also helped reach out to influencers in Honduras. So far, they have secured endorsements from three of the country's most popular soccer teams.  
The public relations students also helped create the "Frijol" branding strategy. They have made the bean, a staple food and familiar image, into a powerful metaphor. A supporter of the movement can embody the "bean," and the compassion and community spirit that it represents. The hashtags #YoSoyFirjol (I am a bean) and #TodosSomosFrijoles (We are all beans) have become expressions of solidarity during the crisis.  
The soon-to-be graduate says the experience has given her a new perspective on her life after AU. She says that many of the concerns that occupied her two months ago now seem much less important. It has also caused her to expand her view of possible career options.  
Lezama is also more confident in the power of students to make change. Many AU students hope to one day make a difference in the world. Lezama wants them to know that it is easier than they imagine and encourages students to take a chance with the skills they already have. She said, "We have so much knowledge and so much training coming out of AU, and it's our responsibility to use that in the world."