Communications
SOC Takes Students Inside the Spin Room and the News Room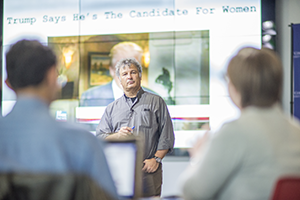 American University students from across campus will have the opportunity to once again study the 2020 presidential election in real time in an intensive, up-close, and personal course on the campaign taught by political analyst, strategist and historian Professor Leonard Steinhorn, who created the course and has taught it every presidential election cycle since 2000. 
The School of Communication course, which is open to undergraduate students in any school, analyzes how the candidates, campaigns, and consultants are motivating their base, reaching voters, cultivating constituencies, creating images, spinning the press, courting influencers. It also dives into how mainstream and digital media, partisan outlets, and even comedians are filtering it all for the public. Political Communication graduate students will also have the opportunity to enroll in the course.
Students from all backgrounds and political perspectives are welcome in this course, however, the goal is not to express personal partisan sentiments but to immerse in the campaign, analyze the strategy, and understand this critical moment in our history. The course will examine media, message, polling, advertising, optics, constituencies, and issues – and dissect the political strategy and tactics that may well determine who takes the Oath of Office in January 2021. Throughout the campaign, students will consider how this historic election might shape American politics and society over the next four years and beyond.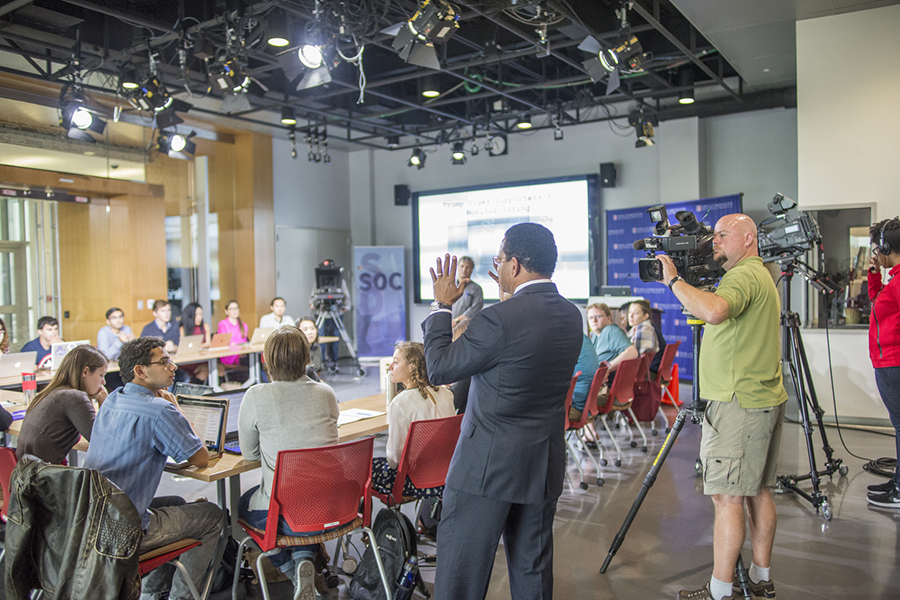 Launched during the historic 2000 election, the course partners each year with a media outlet that covers the class and features their observations and predictions online and on the air. Students over the years have participated in Election Night coverage and have done live interviews throughout the campaign for outlets including CNN, NBC-4, FOX-5, and WUSA-9. See class summaries and watch media coverage from 2016. 
A list of alumni reads like an honor roll of students who have gone on to major roles in politics, media, advocacy and society. This includes a New York Times editor, the head of a major Super PAC, campaign managers, press secretaries, chiefs of staff, communication directors, speechwriters, historians, entrepreneurs, and thought leaders on policies such as health care and immigration. Many of them credit the course with launching them on their career path.
The course meets twice a week during the fall election, with an afternoon class dedicated to in-depth briefings on campaign developments and then, the following morning, the class regroups for a wide-ranging discussion, covered by the media partner, where they analyze trends, ads, coverage, and breaking news. Once the election is over -- and assuming it's not contested – the class drops to one meeting per week.  
In order to honor students' dedication to the class and immersion in the election, the course carries four credits for all undergraduates. This underscores the commitment required by the intense nature of the class. Getting into the class is a competitive process; there are always more students than the class can hold. Students who want to apply should, apply here.