Communications
Sports Events Are the Memories Business with Matt Winkler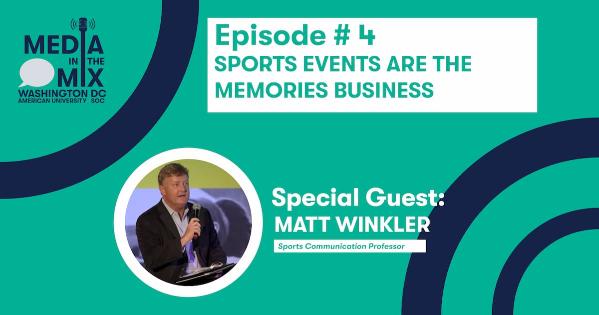 This week your Media in the Mix host, Grace Ibrahim, is joined by fellow American University School of Communication (AU SOC) alum Matt Winkler to talk all things sports media. Winkler has more than 20 years of experience in the NCAA, NHL, WNBA, MLS, the Olympics, and the World Cup, as well as teaching and launching the first Online M.S. in Sports Analytics & Management at AU. But as Winkler shared in the podcast, he had to try more than one type of sports communication before he found his passion. In college, he worked in sports radio, cable, journalism, and finally PR. Along the way, he learned he didn't enjoy radio or cable, but he absolutely loved the PR side of the sports industry. 
At the outset, Winkler offers a brief introduction to the relationship between data analytics and sports media. The wealth of data gives sports media personnel the opportunity to make faster decisions with better information. Winkler identifies four key pillars of the sports media industry: data-driven decision-making, technology enterprises, global strategy, and innovation. These core components are not only areas that students study in the MA program he developed, but the building blocks of this new generation of sports media where the focus is creating and maintaining connection between teams and their fans. 
Another topic discussed is the new wave of reality TV shows surrounding sports, like Netflix's "Formula 1: Drive to Survive" and FX's "Welcome to Wrexham," and how these shows are globalizing audiences and developing new fan bases. The media has offered a new way for stories to be told about sports, and this is particularly impactful for minor league teams and small towns.  
LISTEN HERE:

You may be able to livestream a game from anywhere but being present at a match is where the magic happens, argues WInkler. With all this media in the palms of our hands, he worries that young people, especially, are missing this connection. The drive to get people to go to the stadiums, arenas, and other venues has built up another part of the sports media industry: event production. When you attend a game, it's not just about what happens between the whistles, it's everything else, too. Everything from the visuals on the jumbotron, to theme nights and free swag, are designed by communication teams to optimize interest and experience. 
Ibrahim and Winkler also spoke to the importance of real-world exposure, and hands-on learning, specifically in the sports sector. Whether it is attending conferences, taking specialized courses, or just showing up to events, Winkler emphasizes how important it is to get first-hand glimpses into the industry before deciding on where you want to focus your job search. Both affirmed the value of failure and encouraged students to take chances, try out new things, and recognize that they won't love everything they try. But each experience yields more information, and a clearer career path forward.