Communications
Standing with Science: Students Document the March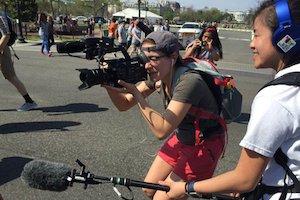 Led by professor Larry Kirkman, four video crews of American University School of Communication (AU SOC) Film and Media Arts graduate students and alumni were all over the 2018 March for Science on the Mall in Washington. Starting at 9 a.m., they covered teach-ins, the rally and speeches, and the march from the Washington Monument to the Capitol. "As a passionate defender of science, I was jazzed to offer my time to this project and when I was chosen to participate as a videographer I knew I wanted to give it all that I could," said Shannon Shikles, a student in the Film and Media Arts MA program.
The production continues last year's coverage of the March and contributes to a "video bank" for March organizations and AU students, alumni and faculty filmmakers. Prof. Kirkman worked with SOC grad students and alumni to make three videos used by the March for Science and its sponsoring organizations to promote the April 14 event, including Science Not Silence, edited by alumna Shannon Lawrence.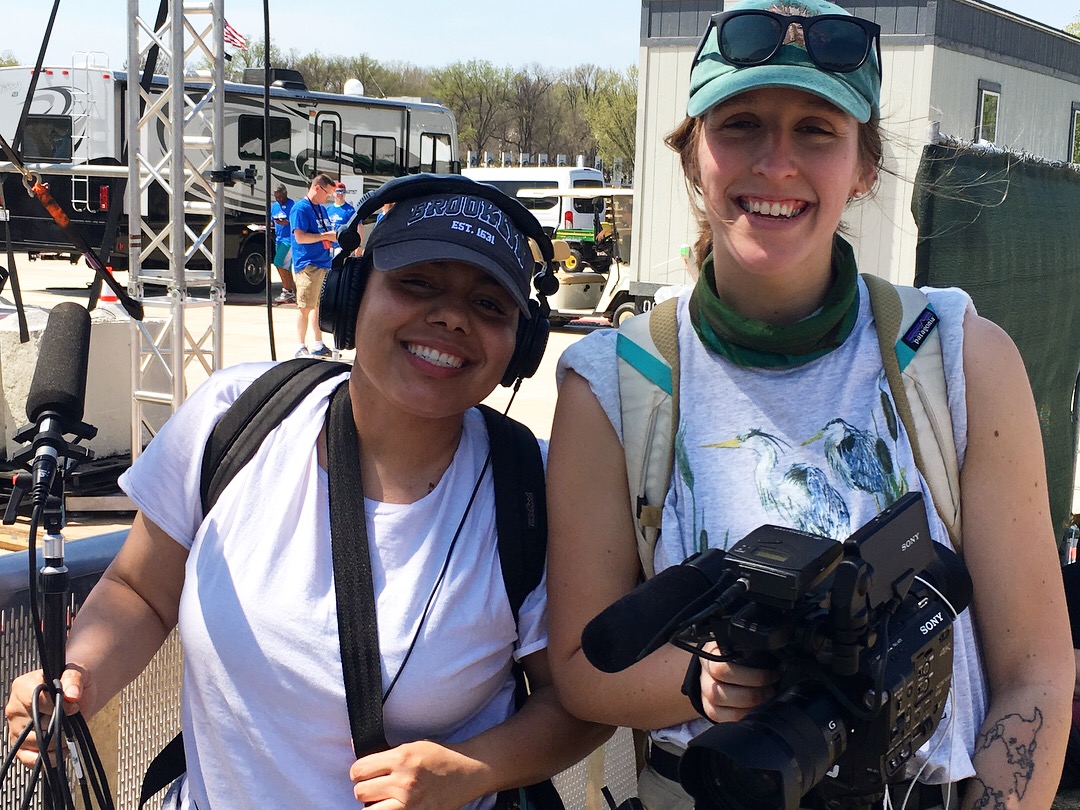 Ashley Luke and Shannon Shikles
The production was supported for the second year with funding from the Center for Environmental Filmmaking and used SOC equipment, including Sony FS5 cameras. "The biggest challenge we had shooting at the march was in the sound recording. With high winds and a loud stage right next to us, Ashley Luke and I had to get creative in cultivating usable audio," reported Shikles.
From the 2017 coverage, Kirkman produced the 12-minute March for Science and Public Policy, edited by MFA student Crystal Berg, as the first step in making a documentary, working title, Preponderance of Evidence. He said, "the longer film will be about the movement to solve the most critical problems we face and about the communication strategies to build public will to implement policies based on scientific evidence."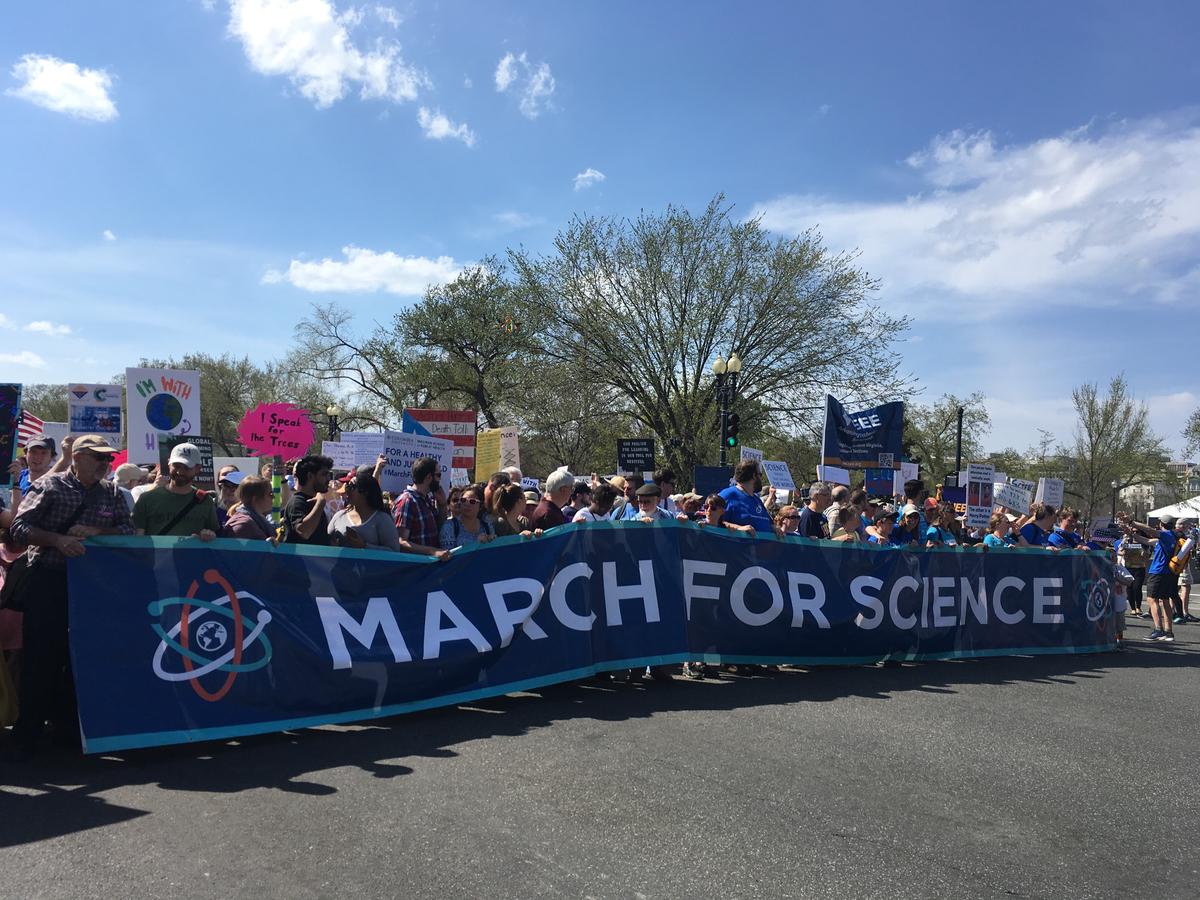 He explained that "the film will follow the journeys of scientists who have made the decision to be more public, to stand up for the need for science to influence policy, to ensure they and their colleagues are not silenced. Some will reach out in their communities, others will talk to the press, some will focus on education, and others will run for political office."
Shikles said she is driven by a desire to incite change in conservation and environmental respect. "I really hope the videos from the March will be used in defense of science and in promotion of science in policy. I would love to know that our coverage of this event lead to policy change or green motivation for people." Shikles is currently working with the Office of Sustainability as their media specialist intern as well as a Research Assistant to Professor Maher. I am working towards a career as an environmental and wildlife cinematographer.
(L to R) Ashley Luke, Shannon Shikles, Nicc and Larry Kirkman at The Nature Conservancy's 'Ask a Scientist' Booth at the 2018 March for Science.
Details:
March for Science 2018 team:
At Defenders of Wildlife:
FMA grad students Sam Sheline, camera and field producer, and Julia Moroles, audio, documented the Defenders of Wildlife sign-making event and interviewed staff on their work and mission.
At the March:
Field Producers: MFA alumnae Kate Schuler and Shannon Lawrence, MA grad student Shannon Shikles and Prof. Larry Kirkman
Camera: Grad students, Amelia Tyson, Mary Alice McMillan, Anthony Brunner and Shannon Shikles
Audio: Sunshine Yang, Steffanie Korcz, Ashley Luke and Juia Moroles
Technical Coordination and Supervision: Prof. Larry Engel
Coordinators: Steffanie Korcz and Nicc Gadsden
Producer, Director: Prof. Larry Kirkman
Their interviews included speakers representing AAAS (American Association for the Advancement of Science), The Nature Conservancy, SACNAS (Society for Advancement of Chicanos/Hispanics and Native Americans in Science), Cool Effect, and the Government Accountability Project program on whistleblowers. One crew started on Friday at a Defenders of Wildlife sign-making event and another crew marched with AAAS from a rally at its national headquarters to the Mall on Saturday morning.