Communications
Student Documents 'Land of Five Dying Rivers'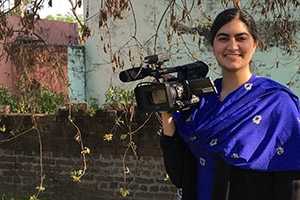 American University (AU) film and electronic media MFA student Sirjaut Dhariwal spent her spring break in Punjab, India filming an environmental documentary that has personal ties. The documentary, "Punjab: Land of the Five Dying Rivers," delves deep into historical eco-friendly farming practices and explore options for future water conservation.
Dhariwal says that the film "tells the story of farmers trying to maintain the ecosystem under the duress of depleting water resources, all while making a living from their crops." Punjab, a city-state in the northwest region of India, covers only a small fraction of the country's land, but provides most of its wheat and rice.
Dhariwal was inspired to create the documentary after taking a writing class. She was later received a Center for Environmental Filmmaking Scholaraward to support the project.
While in Punjab, she interviewed locals and filmed the damaged farmlands and riverbeds. Dhariwal's grandmother actually lives in Punjab and was one of the people interviewed to discuss the negative impact of the water shortage.
The international filmmaking experience was wonderful for Dhariwal and she is thankful to American University for facilitating the project. She is currently in the post production stage and is planning to release her documentary in fall or winter 2017.