Communications
Students Develop National Literacy Campaign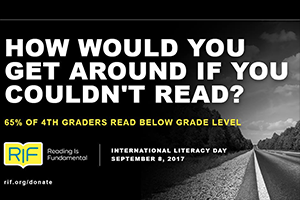 On World Literacy Day, Reading Is Fundamental unveiled new campaign visuals developed by American University students to thousands of followers on social media.
The project began months earlier, when professor Dina Martinez told her Strategic Communication seniors that they would be applying their creative skills and communication savvy to develop a campaign for Reading Is Fundamental. Each year, a real client each year in Public Relations Portfolio (COMM-437). The undergraduate capstone class lets students compete as teams against their classmates to develop a campaign pitch for the client, who selects the winning team – and in some cases, deploys part or all of the winning strategic plan.
Throughout the semester, the students worked on RIF's communication challenge: rebranding a secondary RIF campaign.
The main objective of this opportunity was to develop a campaign aimed at rebranding RIF and raising awareness for the nonprofit and what they do. Student Mariana Caballero explained, "[W]e were given the creative liberty of developing our own content, strategies and tactics while showcasing our strengthens as a team, in order to create a cohesive campaign for RIF."
At the end of the semester five RIF staff members came to AU School of Communication and listened to the pitches from each group, and selected as winner the campaign they believed was most appealing and would be most effective.
In the end, the students all had professional quality work they were all able to add to their personal portfolios. They had the opportunity to see what it's like to develop a strategic communication plan from start to finish; meeting with the client to determine scope, performing research, developing a comprehensive plan and, finally, presenting the plan to a client. This year, the winning team got a chance to see how their concept was actually used by the nonprofit as part of its work.
"As the winner of the project, my group has been given the rare opportunity to watch as parts of our campaign is brought to life through RIF's implementation of our strategies," Caballero said.