Communications
SOC Alumna Susan Zirinsky Named President of CBS News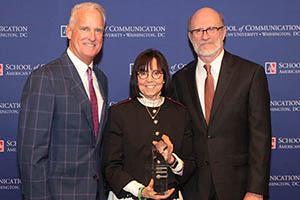 CBS News veteran and American University School of Communication (AU SOC) alumna Susan Zirinsky has been named president of the CBS news division the company announced on January 6. The appointment marks the first time a woman will lead CBS News.
Zirinsky joined CBS News in 1972 as a production clerk while a student at AU and has held numerous positions through her tenure, most recently as senior executive producer of 48 Hours. She has worked as a producer at the White House and on CBS Evening News, and led several special reports, including coverage of the Tiananmen Square uprising in 1989.   
"Susan has touched virtually every division and every CBS News broadcast over the decades she's worked here," Joe Ianniello, acting CEO of CBS Corporation, said in a statement announcing the move. "During this period when the world is consuming more news and information than ever before, the importance of our news division couldn't be greater. It requires a leader with experience, passion, and commitment to excellence, particularly here at CBS News where we have expanded aggressively digitally and globally. I can think of no one more equipped than 'Z' for the job, and we are delighted she has welcomed these new responsibilities."
Zirinsky replaces David Rhodes who served in president's role for the past eight years. He will transition to a position as senior advisor on March 1.
"The entire SOC community congratulates Susan on this appointment," said SOC Dean Jeff Rutenbeck. "Her profound dedication to the role of a free press in our democracy is an inspiration to our students, faculty, and alumni."
Zirinsky, who earned her bachelor's degree in journalism from the School of Communication, was presented with the SOC Dean's Award during the school's 25th Anniversary Celebration in October of 2018 in recognition of her role as a trailblazer, a mentor, and a transformational leader.