Communications
Taylor Battle: Politics, Social Change and EPA Internship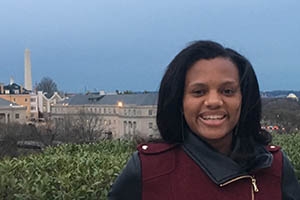 Taylor Battle, an American University (AU) strategic communication graduate student, is leveraging her experience and interest in politics and social change to take advantage of the opportunities at AU School of Communication and her internship at the Environmental Protection Agency (EPA).
She says, "Being that I have a diverse professional background, having worked in both government and corporate settings, I was attracted to the program because its prepares students for different spectrums of communication."
Battle says that the skills she is learning in classes can be translated to a wide variety of different environments such as non-profits, government agencies, international organizations or corporate companies. She was excited to get the opportunity to refine her expertise in writing and editing and learn how to plan public communications campaigns from a strategic perspective.
She believes that "public policy and communications go hand in hand" and that "communication is essential to moving audiences and influencing public policy decisions." Her background in policy inspired her to want to utilize her skills in communications to be a "pioneer for social change" by developing campaigns that address policy issues related to social justice, the environment, global health and education.
Her internship at the EPA is helping to develop her skills in writing and creativity, as her job is to manage internal communication content. Battle says she is learning valuable lessons such as the importance of transparency and how to write for different audiences.
"Though change is hard to implement, the power of creating messages and developing strategies in order to target audiences is essential to effective communication. How one perceives and connects to a message, can contribute to social change," says Battle.
She is excited to fulfill her desire to do work that contributes to the causes she cases about and her experiences at AU are forging the way to help get her achieve her goal.