Achievements
Mastering the Haiku of Filmmaking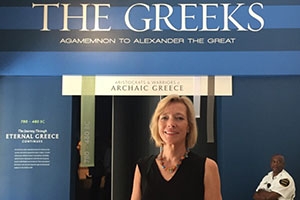 Maggie Burnette Stogner, a professor of Film and Media Arts at American University, produced, directed and wrote the exhibition films and immersive media for The Greeks - Agamemnon to Alexander the Great . It is the most vast and comprehensive exhibition on Ancient Greece ever presented in North America.
Stogner produced several media pieces for The Greeks and calls it "One of the most challenging, most beautiful exhibits I've worked on yet." She has 25 years of experience in documentary filmmaking and is an award-winning producer and director. Her work includes world-touring museum exhibitions, such as Afghanistan: Hidden Treasures, Real Pirates: The Untold Story of the Whydah from Slave Ship to Pirate Ship, and Tutankhamun: The Golden King and Great Pharaohs.

The Greeks, on exhibit at the National Geographic Museum, brings together more than 500 artifacts from 21 Greek museums, including many pieces never before displayed outside Greece. Among other treasures, visitors will be able to see a number of priceless objects, the result of some unparalleled archaeological discoveries. Stogner calls the process of condensing over 5,000 years of history into roughly one hour of film is "the haiku of filmmaking."
"Culture is all about our human stories," said Stogner. "It is how we, as humans, share who we are, what we believe in, what we fear or love, what we hope for, how we live. We have communicated our culture though multimedia storytelling from the earliest cave drawings and stories around the fire pit. Immersive media technologies are an evolving means to tell and share those stories."
"I work with the exhibition directors, curators and design team to design and integrate the films and immersive media within an exhibition. Once we establish a framework then I produce, direct and write these media elements," explained Stogner. She is is credited as Executive Producer of The Greeks in recognition of the leadership and management she contributed to the exhibition as a whole.
Stogner shared examples of her work on The Greeks and the described process she used to determine what media elements would both engage and educate an audience about the artifacts, and how she created them at a Faculty Forum presentation to AU community.