Communications
The Search for Identity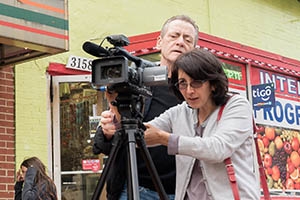 En español
For individuals who come from mixed cultures, the search for identity can be an arduous process, rife with a feeling of imbalance that stems from traversing the differences in our roots.
At some point, however, imbalance gives way to equilibrium as these women and men find their roots do not compete, but rather complement, helping each person to accept and absorb diversity as part of themselves and their world view.
Being American and Peruvian has granted me the tools to conquer challenges in the language realm, and has gifted me with the understanding that it is possible to appreciate and belong to different worlds.
For this reason we, multicultural beings, share a special story that feels sometimes unsettling, as we debate and question our sense of belonging to one particular group or another.
I chose to pursue my master's at American University, hopeful that I'd exercise the Latina that is part of me. When I decided to take Backpack Documentary en Español, I found myself in a place that invited me to use my Spanish and to be surrounded by peers with the same fervor for the Hispanic-Latino culture.
For an array of reasons, be it curiosity, passion, or the comfort of company that shares a common language, Backpack Documentary en Español attracted students from different corners of the world, each one with their own motivations for engaging in the experience.
The course, offered for the first time last fall, represented the first time in its nearly 25-year history that the School of Communication offered a class taught entirely in Spanish. As students of the course, what we experienced during the semester was a class that invited students with at least a basic understanding of Spanish to use the language as a gateway to getting to know more of the world, and ourselves. It was not a course that teaches Spanish, but a space that used Spanish as a vehicle to learn the visual language that drives filmmaking.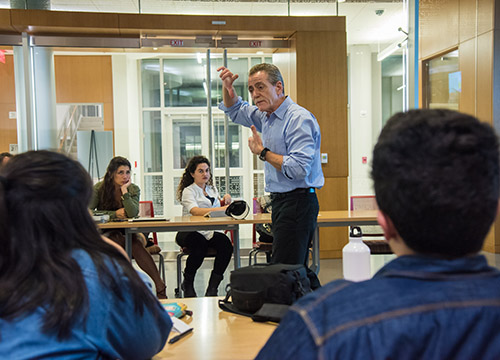 Frame Job: Demonstrating with his hands how to visually set up a shot, SOC Professor Bill Gentile underscores the critical role that framing and visual composition play in driving the narrative and engaging the viewer.
The unique component of this class was the way it served as a crossroads for people from a range of lands including Bolivia, Iran, the United States, and Mexico—all connected by a shared language, but each unique in the story they brought with them.
Some chose to take the class as part of a quest to improve their careers, while others were curious about expanding their abilities after working for several years in their respective fields of work.
Mauricio Rios of Bolivia is in his forties working at the World Bank, and as such brings the unique experiences of his native land as well as his professional expertise. For the class he created a documentary that captured the his son's passion for soccer, and a look into the life of soccer parents. Rios audited the class driven by the need, both personal and professional, to tell stories through images.
Erin Campbell is a senior studying international relations and Spanish studies, and explained that for her, being part of this class meant having the opportunity to be creative while practicing her Spanish. Though the class is also offered in English, Campbell explained if she had opted for the English-language version, the subject of her completed project would have been different. She said she is grateful for the places the Spanish-taught course led her.
Working in Adams Morgan, a bohemian section of D.C. that features African restaurants, painter's studios, and street musicians, Campbell dove into a Latino-Hispanic world squeezed into Rumba Cafe's intimate location.

While friends met for mojitos, Campbell made note of the indigenous masks on the wall, embellished with foreign currency and bills protruding from the eyes and mouths. She searched for the details; the Cuban singer's shoes, a girl savoring a plate of yucca frita, and she captured these moments with the camera.
Behind her stood professor Bill Gentile, making suggestions for light adjustments, angles, and questions to ask the restaurant and bar owner, Gustavo Huapalla. Huapalla, born in Argentina, shared his motivation for founding the café.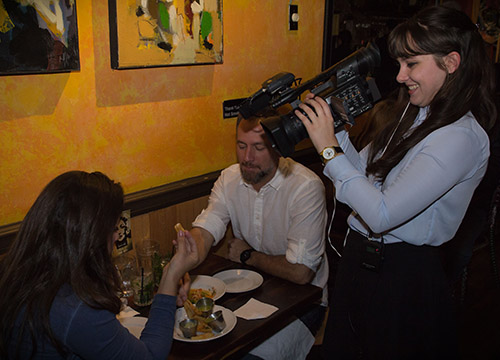 Dinner Roll B-roll: Working on "Rumba Cafe," American University senior Erin Campbell captures "B-roll"--short clips that the editor can weave into a video to visually enrich the production value and enhance story flow.
"My idea when I opened Rumba was for Washington," he said in Spanish. "It's not just for Latinos, it's for the world."
Just as the allure of the space drew Italians and Cubans, it also called Campbell, of American roots.
Over the course of the semester, Gentile repeatedly demonstrated his passion for teaching the craft, as he turned the community into a laboratory for learning and accompanied students wherever our projects took us.
It was because of video journalism that we had the opportunity to document what we find curious about the world, using what Gentile calls the "visual language" to tell stories about the people and places in different corners of Washington.
Technically, we learned how essential it is to speak and understand the visual language. However, Gentile also imparted his understanding of the Hispanic-Latino community, in which he has lived since 1977.
In many ways the course provided a safe space for cultural expression, something that demands a leader who has an understanding and appreciation for diversity. As students we were fortunate to learn from an individual who was sensitive to our differences and always sought ways to take the lessons beyond the classroom, such as "shootouts" on Saturdays in which we worked on location to better understand our equipment.
A core component of Backpack Documentary en Español was presenting our work throughout its development, and exchanging the successes and challenges we faced with our peers. Like family, we constructively criticized each other, and exchanged ideas and observations pertinent to our cultures.
The Spanish language is known best perhaps for its romance and expression, and at its roots intensely profound feelings and emotions bloom. Aware of this, Gentile has developed a very human approach to teaching, and encouraged us to tap into our hearts and minds, to think critically about the meaning of culture, and how this is impacted by changes in the United States.
In doing so, we explored different ways to be a more inclusive society, a large part of which means looking for stories that often go untold.
Stories such as the life of a gifted artist, or the 87-year-old widowed barber, or the daily toils of a woman who makes pupusas on 14th street.
Drawing from the experiences of the semester, for many of us in the course, Backpack Documentary en Español served as a reflection of the evolution of society at American University, in Washington, and the world at large.
It also underscored the fact that diversity within ourselves should not be taken as a disadvantage, but we should take ownership of it, embracing it as an opportunity to deepen our understanding of our own identity and the identities of others.
If not by our roots, it is by curiosity that we become multicultural. It's not finding the answer to feeling sufficiently American, or sufficiently Peruvian, but feel complete with this inclusive identity.
In a world that everyday demands more pictures, being able to create documentaries means "speaking" the visual language, a bridge in being able to cross cultures, and become closer as human beings.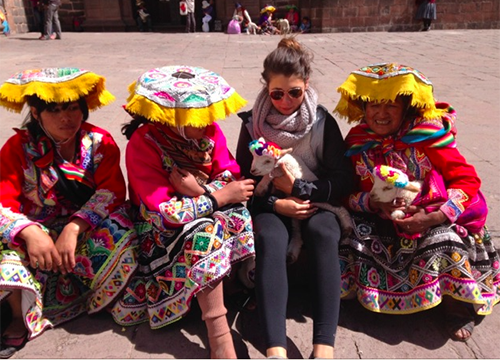 SOC student and author of this article Natalie Hutchison chats with women Cuzco, Peru who make their living having tourists pose with baby sheep and llamas.
Note: Backpack Documentary en Español was offered for the first time in the fall of 2016. The plan is to offer it again in the near future, perhaps as a part of a concentration of classes about the Hispanic-Latino world, all in Spanish.