Communications
The WHCA Dinner Through the Eyes of a Student
Mawal Sidi spent her last Saturday evening as an American University School of Communication journalism student rubbing elbows and exchanging business cards at the 2018 White House Correspondents Association Dinner as a guest of CNN along with fellow SOC senior, Lauren Lumpkin. The day before, Sidi and Lumpkin were given a tour of CNN headquarters, where they were able to meet journalists and other CNN staff and learn more about CNN and the industry at large. SOC talked with her about her experience.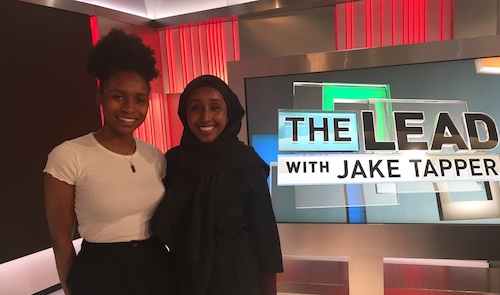 SOC: You were able to tour CNN the day before the WHCA dinner - what stood out to you about it?
MS: Before I went I saw a controversial interview between Dana Bash and KellyAnn Conway. Conway accused the network of sexism, and I asked Bash what was going on through her mind during the interview. She provided us with insight on how she handled Conway's remarks and she also gave us tips on ways to improve our interviewing skills. It was also amazing speaking to so many women at the network such as Gloria Borger, Rachel Smolkin and Kate Bennet and getting a sense of how women are treated in the broadcast industry. As a women of color, it helped calm some of my worries of trying to balance my career and personal life.
SOC: What's your most valuable takeaway from both the tour and the WHCA?
MS: The most valuable takeaway from the tour and the WHCA dinner was how much the industry values young journalists. Every person I came across whether it was CNN's Don Lemon or Sam Feist or April Ryan they were all so encouraging and proud to hear I was pursuing journalism.
SOC: What surprised you about the WHCA dinner? Any favorite moments?
MS: I was surprised to see KellyAnn Conway in person. I just think she's a very interesting human being. My favorite moment was speaking to The Daily Show and The Opposition's Jordan Klepper. We talked about his interview with NPR's Terry Gross and how college was going for me. He was very kind.
Mawal Sidi and Jordan Klepper
SOC: Michelle Wolf's jokes generated a lot of controversy among some *outside* the room - as someone who was there, did they seem offensive to you/did the audience seem to read it the same way?
MS: I thought she was hilarious, but I don't think the jokes registered with the older crowd as much. I tried to not laugh out loud too much, because I wasn't sure if people were offended or not. Nonetheless, my table seemed to enjoy her routine.
SOC: What advice would you give to a student attending next year?
MS: I was so anxious leading up to the event. I kept doubting my abilities, but I have amazing friends who were around me giving me a pep talk before the event. I practiced my elevator speech with them, and they even helped me get ready. So, I would just say surround yourself with people you feel comfortable with before you go to the event, because it'll make you feel less anxious. When I got to the event, I didn't know this at first, but make sure to check the back of the booklet that's at every table. It has everyone's name and where they're sitting. It's a great tool to help you meet people.