Communications
Top Takeaways from a Strategic Communication Alumna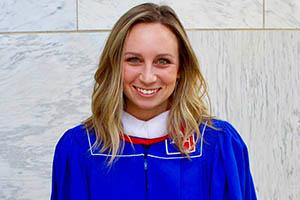 Alexis Janney, a 2018 alumna of American University's (AU) Strategic Communication MA program, currently works as a senior account executive at GreenSmith Public Affairs. She started working at GreenSmith prior to starting her one-year program at AU, and upon graduation was hired full-time with a promotion. Her dedication and drive led to her being named one of Washington Business Journal's "People on the Move" in April.
"It was nice to see something tangible that showed my hard work while in school," Janney said.
We asked Janney to share some of her biggest takeaways from her time at AU. She said AU taught her a lot about the industry and beyond. These are Janney's top four takeaways.
1. Work hard and work smart
As a PR professional, you will have many different duties and responsibilities. You will need to work hard, yes, but you will also need to work smart. Manage your time wisely and work toward deadlines. If you do these things you will not only be successful and efficient, but you will show that you are reliable and effective. 
2. Make meaningful connections
You are fortunate to be surrounded by so many intelligent, accomplished and helpful peers and professors. Introduce yourself, offer your help or advice, and build relationships. (This will come in handy in the workplace and when working with clients.) But beyond that, you will build an extensive network that is invaluable for the rest of your years.
3. Ask questions
It is perfectly acceptable to ask questions. When you are surrounded by those intelligent, accomplished and helpful people, you should absolutely ask questions. Being in this program and in the industry allows you to absorb information from others who have different backgrounds, experiences and values that will inform your own.
4. Pay attention to detail
One thing I pride myself in is paying attention to detail. When you enter the PR industry you will learn this is not additive, it is necessary. Whether you are planning travel for an executive, writing a speech for someone, planning a press conference, editing the company blog or creating a social media graphic, detail is crucial. There are many different audiences to communicate with and attention to detail will ensure your success.
The complete Q&A with Janney can be found here, where she talks more about her academic and career experiences with AU and GreenSmith.