Communications
Tweeting and Cheering at Discovery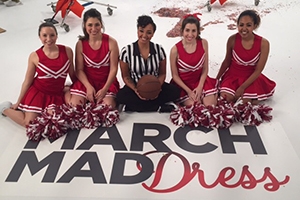 Mirchaye Sahlu is a graduate student in the Journalism and Public Affairs program at American University School of Communication. Below she shares about a unique opportunity she was offered – and took – as part of her internship at Discovery Communications. 
I am interning at Discovery Communications this semester, and although it is only my fourth week, the experience has been spectacular so far. 
Specifically, I am interning with the Science Channel communications office, which is a small team of four people including myself. As the Digital and Social Media intern, I deliver projects daily and weekly in the digital social media environment. I research and write scripts, create weekly show lifts with story arcs, create GIFs for social media, and keep our Twitter and Snapchat accounts active. 
While my experience at the Science Channel has been great, being part of the Discovery "family" has given me other opportunities as well.
For example, I got an e-mail from HR one morning saying that TLC (which is also part of Discovery) needed four extras for a shoot for the March MadDress show, TLC's  answer to March Madness. The part required the extra to dress in basketball jerseys and cheerleading costumes for the production. 
At first, I thought, "There is no way I am doing this" because I had no prior cheerleading experience whatsoever. But then my SOC classmate Natalie Hutchinson, who's also interning at Discovery this semester, convinced me to apply with her. Within a few hours, I got an email - I was in!
I was very excited, but also nervous because I had to learn all the cheer routines in just one day. Everything happened so fast. Before I knew it, I was putting on my costume and found myself on set. I kept pinching myself - I felt like a movie star for a day and it felt awesome! I even got to work alongside celebrity host Danni Starr. Granted, it was a long day and we had to reshoot the same scenes multiple times, but it was all worth it. 
Natalie shared my excitement about the shoot and loves her internship at Discovery. "Working at Discovery has been riveting, surprising and inclusive. When we acted in the shoot for March MadDress, I wasn't sure what to expect," she said "But, I can say the level of involvement and excitement I had this day and every other day in the office has been consistent. I am overjoyed to be part of TLC and proud to be part of Discovery." 
So while we're back to our regular internship duties, you can catch us every Saturday night at 8 p.m. on TLC in March starting the 4th for new episodes of Say Yes to the Dress.