Communications
Vicktery Zimmerman Shapes Messaging on Global Issues, Advocates for Diversity and Inclusion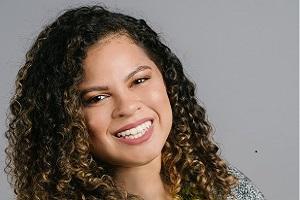 When Deloitte tweets about empowering women and girls to its 500+ thousand followers, Vicktery Zimmerman is probably behind it. And when the press picks up and publishes a Deloitte success story, that's likely her work, too.   
 Since earning her master's degree in International Media (now the MA in Global Media, a joint program with the School of International Service) from the School of Communication, the public relations professional has worked with top leaders in business and government to write stories and support programs that transform lives around the world.  
Zimmerman always wanted to do something with a global focus. Then, in her junior year of high school, a class field trip to a human rights conference gave direction to her ambition. She recalls becoming aware of the scale of global problems, of the many people in need, and realizing "this really matters to me...this is where I think my heart is."   
A college internship at the Department of State sparked her interest in communications. As the most junior employee, she was assigned to manage the social media accounts for the office. At that point, she had no intention of going into communications or public relations, so initially she wasn't very interested in the assignment. But she kept an open mind and, a few weeks into the internship, she was hooked.  
Having decided to pursue a career in communications, Zimmerman looked for a master's program to establish her expertise and develop her skills. SOC's emphasis on practical and technical skills was exactly what she was looking for. "It was very hands-on…the photography classes, and the writing classes, the crisis communication classes…those were the tools I needed to be successful," she said.   
The D.C. location, which would enable her to continue working in international affairs, was another deciding factor in her choice. While completing her master's degree, Zimmerman worked full-time at the State Department. She remembers being amazed by how often she could apply a topic or skill from the classroom directly to her work the following day. She said, "It all came together…It never felt like it was two separate things."  
These days, in her job as a Senior Public Relations Specialist for Deloitte Global, Zimmerman works on global issues with an international team. Her job is to communicate Deloitte Global's initiatives and strategies within the network and promote the eminence of the organization externally. On any given day, she may be writing a blog post, preparing a media pitch, writing materials for company leaders, or creating social media strategies and toolkits for use throughout the company's network.   
If you could write an RFP for the future, what would it say? Join Deloitte x @OneYoungWorld's conversation at #wef20 next week & share the future changes you'd like to see come to fruition: https://t.co/jlFYs9SCOl #ReadinessReport pic.twitter.com/C9C6F6U7h7

— Deloitte (@Deloitte) January 17, 2020
Both at Deloitte, and during her seven years with the Department of State, the communications professional has worked on many projects that directly improve people's lives. Her role in organizing the 2016 Global Entrepreneurship Summit is just one example. As part of the team responsible for coordinating media, Zimmerman set up interviews for entrepreneurs and political leaders—including Secretary of State John Kerry—and secured media partnerships to broadcast the summit live. It was a powerful opportunity for young entrepreneurs to identify investors and showcase their work. She follows several of those entrepreneurs on social media, sees how their businesses have grown since the summit, and feels proud to have supported them.  
In every role, the SOC graduate has used her position and skills to be a voice for diversity and inclusion. At the Department of State, she was a founding member of a board that advocated for policies to make the workplace more diverse and "most importantly, inclusive." Because, as she points out, "you can be diverse in terms of numbers, but is the environment truly inclusive?" Through the board, she hosted workshops on unconscious bias and established a forum where employees could talk about their experiences and concerns in the workplace.  
Zimmerman is now a board member for one of Deloitte's inclusion councils, the black employee network. She believes this council is one key to her success, as well as her happiness and fulfillment, on the job. Through the inclusion council, she plans engaging events, not only to discuss the organization's efforts on diversity, but to make sure that employees from underrepresented groups feel seen and heard.   
The Deloitte leadership team is also committed to diversity. As the organization takes steps to modernize work and promote an inclusive culture, Zimmerman is responsible for communicating those efforts to the world. Not only does Deloitte Global develop and lead global strategies and provide programs and services that unite a network of  more than three hundred thousand professionals, it is also a respected leader in its field. Deloitte is well positioned to influence business culture on a global scale, and Zimmerman is helping to shape the narrative.    
Reflecting on her own career path, the international media graduate encourages students and recent graduates to "jump at every opportunity that comes your way." She hopes they will be open to pursuing careers in government, which offers unique possibilities for professional development, to meet inspiring leaders, and to do work that matters in the world. She also advises new graduates to "never say you can't, or you never say, 'I don't know how.'" She added, "Find that part of your job that truly energizes you…and make yourself the best you can be at that."  
Zimmerman is still amazed when she looks back on her career so far. "I never envisioned that I would be serving abroad in an embassy, or coordinating interviews for the President...that I would work for and be in the same room as so many people that were writing our policy and changing the way our world works," she said. "And now, working for a global organization that has influence in the world…even on the bad days, it's really great."