Communications
WHCA and AU Announce Scholarship Focused on Investigative Reporting

The White House Correspondents' Association (WHCA) and the School of Communication (SOC) at American University are pleased to announce the creation of a new scholarship partnership aimed at encouraging investigative journalism.
"Whether it's seeing a pattern others have missed, or unearthing secrets deliberately concealed by those in power, or doing the demanding and grinding work of sifting through public records, investigative reporting is vital to a healthy republic," said Olivier Knox, president of the WHCA. "I'm thrilled that the WHCA has partnered with American University to underline that fact."
The scholarship will be awarded each year to an undergraduate or graduate student in journalism at the School of Communication who shows promise in the field of investigative journalism. It will be for $5,000, with half coming from the WHCA and half coming from the university.
"At such an important time in our history and industry, we are honored to launch the first investigative journalism scholarship with WHCA," said Amy Eisman, director of the journalism division at SOC.
The recipient will be recognized at the annual dinner of the WHCA, starting with this year's event on April 27. The recipient also will be included in a scholarship luncheon that weekend and will be matched with a veteran White House journalist for a year of mentoring.
The first student to receive the scholarship will be Shelby Hanssen of Rochester, Minnesota, a graduate journalism student in the School of Communication.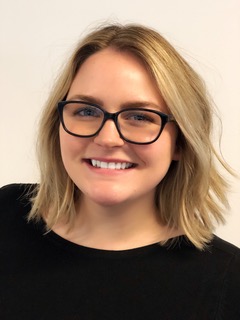 Hanssen holds a law degree from the University of Oregon School of Law. She has written for The Washington Post and is attached to the paper's investigative unit through the school's graduate journalism practicum class, which embeds student journalists in the Post newsroom under the leadership of John Sullivan, a reporter at the Post and editor at IRW who also teaches in SOC.
Hanssen's essay and work portfolio impressed judges -- Eisman; Lynne Perri, managing editor of the Investigative Reporting Workshop (IRW), and Rick Young, writer-producer for PBS FRONTLINE whose team is based at IRW and SOC -- with her focus on the people who are helped by investigative journalism.
American becomes the 10th university partnering with the WHCA to encourage young journalists through scholarships. In addition to American University, the full roster includes Arizona State University, Columbia University, Grambling State University, Howard University, Northwestern University, Ohio University, the University of California at Berkeley, the University of Maryland and the University of Missouri. Another two universities award scholarships that are honored by the WHCA at the annual dinner: George Washington University and Iowa State University.