Communications
Comedy Meets Social Justice in a New Center for Media & Social Impact Collaboration with Comedy Central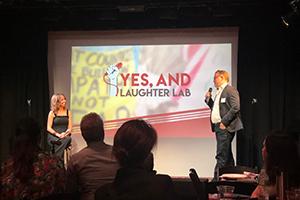 Comedy can repair the world. That's the premise of a major new initiative at the intersection of comedy and social justice, the Yes, And…Laughter Lab (YALL), launched by AU's Center for Media & Social Impact (CMSI) and strategy group Moore + Associates, in partnership with Comedy Central, the long-running Viacom comedy TV network and home to entertainment hits like The Daily Show and Broad City. The pilot initiative was funded by Comedy Central, Open Society Foundations, Unbound Philanthropy, Pop Culture Collaborative, the United Talent Agency, and Pillars Fund.
In a dynamic, laughter-filled convening, the Yes, and… Laughter Lab initiative curated and showcased new and emerging comedy projects focused on social justice topics to a room full of entertainment executives, social justice leaders and comedy professionals. The lab is designed to promote collaboration between comedians and social justice activists. Held at Caveat, an alt-comedy club on Manhattan's Lower East Side, more than 100 industry leaders from organizations such as, Tru-TV, MTV, Luminate, Ford Foundation, Define American, Color of Change, IllumiNative, The Opportunity Agenda, UTA, Pop Culture Collaborative, Bloomberg Philanthropies, Open Society Foundations and others were invited to learn about the projects and find ways to collaborate and support comedy with social impact at the core.
The effort is a continuation of CMSI's innovative research, creative and leadership efforts in the intersection of comedy and social justice launched in 2017 with CMSI's first initiative, The Laughter Effect, funded by the Gates Foundation. Yes, And…Laughter Lab co-founder Caty Borum Chattoo, Director of the Center for Media & Social Impact, is the co-author of a forthcoming book to be published in 2020 by University of California Press, titled A Comedian and An Activist Walk Into a Bar: The Serious Role of Comedy in Social Justice, along with Lauren Feldman of Rutgers University. 
According to Borum Chattoo, who also teaches specialized courses in communication and social change at AU's School of Communication: "Comedy can open our minds to hearing and talking about tough issues by seeing them differently. For serious social issues, comedy serves as both a source of civic imagination, helping us to see the world with hope, or a needed social critique. Both are important for social change." The Yes, And…Laughter Lab is a matchmaker for the funny, the funders, and organizations who are intentionally putting comedy at the center of social justice work.
The spotlight projects at the inaugural Yes, And…Laughter Lab were selected from the 500 submissions that had poured in from across the country by a committee that included a roster of high-profile comedians. The selection and steering committees for the project include Abbi Jacobson and Ilana Glazer from Comedy Central's Broad City, Aasif Mandvi and Roy Wood Jr. from Comedy Central's The Daily Show, and stand-up comedian Sabrina Jalees.
"Our agency has worked with dozens of comedians over the past eight years to help them use comedy to make people think differently about the most critical issues of our time, from climate change to immigration, from voting rights to gun safety," said Mik Moore, Founder and Principal of Moore+Associates. "We created Yes And… Laughter Lab for the hundreds of other comedians out there with inspired ideas in need of some guidance and support."   
During two thought provoking panels, "Can Comedy Help Define American?" and "Comedy for Social Change: The Good. The Bad. The Funny," panelists identified the value of comedy in social change and also spoke about how these sectors can work together. CMSI's Comedian-in-Residence, Bethany Hall, spoke about the Writers' Room she led for Define American and pitched the three final immigration themed ideas along with comedian Jordan Carlos.
The pitch presentations were emceed by comedian and senior fellow at Pop Culture Collaborative, Zahra Noorbakhsh, who said that the attendees were "brought together by purpose, not by chance" and that they "fixed a broken pipeline of comedy production." That pipeline, between social activism and comedy, is exactly what the YALL initiative is hoping to expand. Stay tuned to hear more about this initiative which aims to make the world a better place, one laugh at a time!
Comedians a pitched standup, sketch, and narrative comedy shows and a series of digitally animated short films. Issues tackled by the comedians in their pitches included women's rights, Native American discrimination, Latinx, Muslim, and black identity, "woke" culture, and drug addiction.