Achievements
Mock Trial Teams Advance to National Competition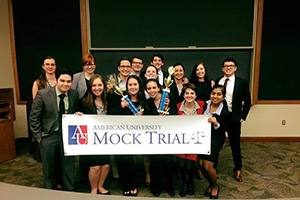 Two American University mock trial teams have advanced to national competition as a result of their performance at a regional tournament that the School of Public Affairs hosted for the first time in early February.
"SPA is incredibly proud of the Team's accomplishments," said Jessica Waters, SPA's Associate Dean for Undergraduate Education. "The students spend hundreds of hours every year honing their presentations, and their work has paid off."
The teams are now gearing up for the Washington, D.C. Opening Round National Championship March 19-20. They are coached by SPA adjunct faculty member Don Martin and Kierra Zoellick, office coordinator for SPA's Justice Programs Office. Ashley DiMuzio is president of the student mock trial association.
The American Mock Trial Association selected SPA to host its Feb. 6-7 regional tournament – one of 25 regional contests held across the nation in February -- in recognition of the exceptional success of the relatively young team. While only a few years old, the AU team ranks in the top one percent of 600 mock trial teams from 350 colleges and universities across the nation.
The campus teams maintained their impressive record in preliminary competitions this year. One team took the first place trophy at the Richmond Regional Tournament with a perfect record of 8-0, beating teams from Princeton University, the University of Pennsylvania, Georgetown University, the University of Virginia, and William and Mary.
This year, the AU teams attended 10 tournaments, and won six "Top 5" team awards and 17 individual awards – nine of those for top witnesses and eight for top attorneys.