Government & Politics
Bipartisan Conference Highlights Need to Work Together on Capitol Hill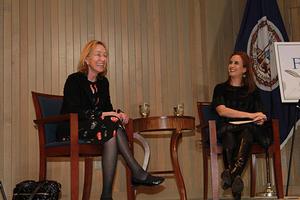 Faculty from AU School of Public Affairs recently joined The Ripon Society at their annual Senior Staff Symposium on Leadership at Mount Vernon. The daylong event, which drew over 100 top Republican and Democratic senior staff and congressional aides to the historic estate of George Washington for a series of speeches, discussions, and sessions that focused on Capitol Hill challenges.
SPA faculty taught sessions on team building, mindful leadership, and managing up. SPA Executive in Residence Andrew Rahaman focused on how to put together a high-performing staff; Executive in Residence Ruth Zaplin focused on the importance of emotional intelligence in effectively managing and getting the most out of staff; SPA Dean Vicky Wilkins and Executive in Residence Reginald Wells shared recommendations on using work style and emotional intelligence to manage up.
The symposium ended with a moderated discussion between Betsy Fischer Martin, Executive Director of SPA's Women & Politics Institute and Pulitzer Prize winning historian Doris Kearns Goodwin. The conversation focused on Kearns Goodwin's most recent book, Leadership in Turbulent Times, and how the presidencies of Abraham Lincoln, Theodore Roosevelt, Franklin Roosevelt, and Lyndon Johnson are relatable today.
"This partisanship has a fever that hasn't quite broken," said Goodwin. "But, as FDR once said, 'problems created by man can be solved by man, and we've created this extreme partisanship. And we have to figure out what to do."
The Ripon Society is a public policy organization that was founded in 1962 and takes its name from the town where the Republican Party was born in 1854 — Ripon, Wisconsin. One of the main goals of The Ripon Society is to promote the ideas and principles that have made America great and contributed to the GOP's success. These ideas include keeping our nation secure, keeping taxes low, and having a federal government that is smaller, smarter, and more accountable to the people.
View a photo gallery of the bipartisan Senior Staff Symposium on Leadership.