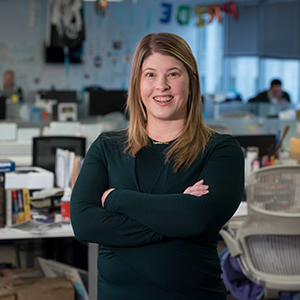 Anne Caprara, Chief of Staff, Illinois Governor J.B. Pritzker

Anne Caprara has managed and consulted with candidates and elected officials at every level of state and federal government.  She currently serves as the Chief of Staff for Illinois Governor J.B. Pritzker.  Caprara was also the campaign manager for Pritzker's successful gubernatorial campaign where he defeated the Republican incumbent by almost 16 points.  Before that, Caprara served as the Executive Director for Priorities USA Action, the main SuperPAC supporting Hillary Clinton for President in 2016. 
In 2014, she was political director for the Democratic Senatorial Campaign Committee, helping to oversee Senate races in 33 states. In 2011 and 2012, Caprara served as the DSCC's Deputy Political Director, covering all Senate races east of Wisconsin. In 2008, she was the campaign manager for Betsy Markey, a first-time candidate running against a 3-term Republican Congresswoman in Colorado's 4th congressional district.  Markey won by the race by 12 points and over 41,000 votes in a district where Republicans outnumber Democrats by 45,000 voters. Caprara subsequently served as Markey's Chief of Staff from 2008 until 2010.  She has also worked as Chief of Staff for Ohio Congresswoman Betty Sutton and as the Deputy Research Director at EMILY's List. 
Caprara obtained her Master's degree from George Washington University and her undergraduate degree from American University.  She was born and raised in the Philadelphia area, is an avid surfer and a tried-and-true Eagles fan.
Anne spoke at the April 2019 Campaign Managers training session.