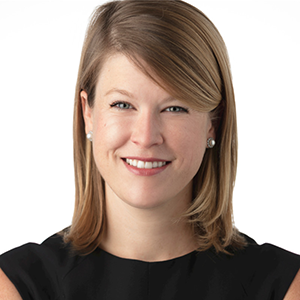 Anne Hedgepeth, Chief of Policy and Advocacy, Child Care Aware of America
WeLead Class of 2007-08
At Child Care Aware of America, Anne Hedgepeth continues her work as a policy strategist coordinating campaigns to advance local, state, and federal solutions. Previously as AAUW's top policy advisor, Hedgepeth drove the organization's advocacy work.  She connected with stakeholders and policymakers on AAUW's policy priorities and directed AAUW's field strategy.  She supported AAUW's successful work to pass the Matthew Shepard and James Byrd, Jr. Hate Crimes Prevention Act, the Lilly Ledbetter Fair Pay Act, and the Violence Against Women Reauthorization Act (including the Campus SaVE Act). Hedgepeth has appeared in The Washington Post, Politico, NPR, NBC4, WTOP, Refinery 29 and other outlets talking about issues impacting women and girls in education and the workplace.
Hedgepeth earned a Bachelor of Arts degree in economics from Davidson College and a Master's degree in Public Policy from George Mason University. She last spoke at the launch of WeLead2023.